Winter proper is here
South Australian Surf Forecast by Craig Brokensha (issued Wednesday July 21st)
Best Days: South Coast tomorrow and Friday, protected spots down South Saturday, Sunday and Monday, Mid Coast stormy spots Saturday afternoon and Sunday morning
Features of the Forecast (tl;dr)
Mix of easing S/SW swell tomorrow and reinforcing SW swell for the PM, holding Fri and Sat
Strong N/NE tending NE winds tomorrow, variable most of Friday though likely W/NW late
Strengthening NW tending W/NW winds Sat with a building, stormy swell on the Mid Coast, backing off slowly Sunday
Moderate sized W/SW swell for the South Coast Sun with strong W tending W/NW winds
W/SW groundswell Mon AM, easing with fresh to strong NW winds
Stormy surf developing again next Wed
Recap
Choppy, poor quality waves on the Mid Coast yesterday with shifting winds from the W to SW, easing off later in the day creating improving conditions. Today the swell is much cleaner and coming in at 1-2ft, creating fun waves across the beaches and reefs.
The South Coast deteriorated quickly yesterday with a sizey, stormy increase in S/SW swell through the day, cleaning up slowly today bit still lumpy and raw, easing from the 4ft range across Middleton.
This week and weekend (Jul 22 - 25)
The coming period will be filled with multiple swell pulses but the main issue will be working the local winds.
We'll see today's close-range S/SW swell continuing to drop in size through tomorrow across both coasts, but some fun, reinforcing mid-period SW swell should fill in through the afternoon, holding Friday with a secondary pulse, then easing Saturday.
The source of this reinforcing swell and another for Friday were W/NW winds swinging in from the Indian Ocean, under the country last night, with a secondary burst of stronger W/NW gales due this evening, south-southwest of us.
Middleton should hold drop to 2-3ft tomorrow morning but kick back to a stronger 3ft into the afternoon, holding this size Friday and Saturday, while the Mid Coast looks to drop back to the 1ft range tomorrow and Friday.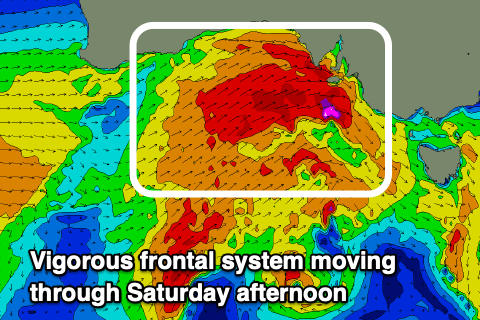 Winds look best for the South Coast tomorrow with a strong N/NE tending NE breeze, favouring some locations over others into the afternoon. Come Friday more variable winds are due in the morning as a mid-latitude low moving in from the west weakens and pushes across us, with winds likely to remain variable into the afternoon if not tend W/NW.
Now this mid-latitude low will precede a much more significant mid-latitude frontal progression with strong NW tending W/NW winds due through Saturday, back to the NW into the late afternoon with protected spots being the pick down South. The Mid Coast will see stormy, building NW tending W/SW windswell, kicking to 4ft later in the day, easing back from a similar size Sunday.
The South Coast may see a late increase in size but Sunday is a way better chance for this with the gale-force W/SW winds moving though Saturday afternoon kicking up 4-5ft sets across Middleton on Sunday.
Winds will remain strong from the W tending W/NW, favouring protected spots down South while keeping the Mid Coast a choppy mess.
Another approaching front will shift winds around to the NW on Monday, fresh to strong but opening up more options down South and the size is due to slowly ease from a good 4-5ft across Middleton. The Mid will remain choppy along with 3ft of swell.
It doesn't look it'll be too long between storms, with another strong progression of mid-latitude fronts due to move in through the Bight Tuesday, crossing us Wednesday. This will bring more stormy surf for the Mid Coast and windy, workable waves in protected spots down South, but we'll have a closer look at this on Friday.