Windy, stormy swell to end of the week and start the weekend
South Australian Surf Forecast by Craig Brokensha (issued Wednesday July 14th)
Best Days: Stormy spots Saturday morning on the Mid, Sunday down South, Mid Coast for the keen Sunday, Monday down South
Features of the Forecast (tl;dr)
Building NW windswell on the Mid tomorrow with strong NW winds
Building W'ly swell and stormy waves through Fri on the Mid with strong W/SW winds
Large, stormy waves on both coasts Sat with strong W/SW winds, easing late
Easing SW swell Sun with W/NW winds
Inconsistent SW groundswell for Sun PM and Mon AM with NW winds Mon
S'ly change with a new SW swell Tue
Recap
Monday afternoon's windy increase in W/SW swell on the Mid Coast eased back to 2ft yesterday morning with a window of cleaner conditions before that N'ly wind ruined it into the afternoon. Today is tiny and choppy.
The South Coast saw fun 1-2ft waves across the Middleton stretch all day yesterday, better on the swell magnets, while today it's clean again but now tiny.
This week and next (Jul 15 - 23)
With the swell fading on the South Coast, we've got similar, tiny conditions due into the end of the week along with strong NW winds tomorrow, even stronger Friday and W/NW-W.
This will be as an initial mid-latitude front pushes in from the west, ahead of a much stronger frontal progression Friday and Saturday.
Tomorrow's strong NW winds will kick up a building NW windswell to a choppy 2ft on the sets, while Friday's strong cold front will see stormy, buiding surf to 3-4ft by late in the day.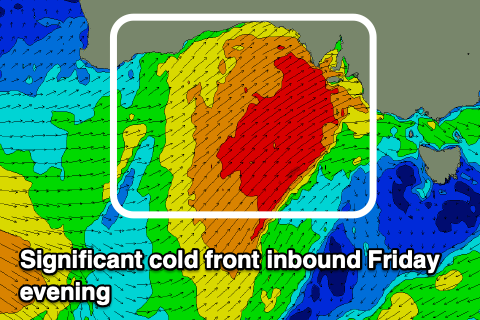 Friday's front will move slowly off to the east on Saturday, but we'll continue to see strong W/SW winds projected into us with the Mid Coast expected to be even bigger and to 3-5ft. The South Coast will see a jump in size Saturday as the gale-force W/SW winds are projected into it, kicking up stormy 6ft waves but with that strong W/SW wind.
Winds should back off overnight Saturday and swing around to the W/NW around Victor, even holding into the afternoon as the stormy swell organises itself and eases back slowly from the 4-5ft range. The Mid Coast should start to ease Saturday afternoon as winds slowly abate dropping from 2-3ft on Sunday, but still bumpy.
Now, as the localised swell from the strong front continues to ease into Sunday afternoon, a new, inconsistent SW groundswell should take it's place.
This is being generated by a strong polar low that's currently firing up east of the Heard Island region.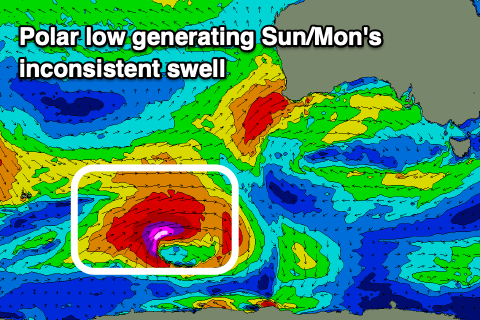 This low has been upgraded a little in strength since Monday with a great fetch of severe-gale to storm-force W/SW winds due to be projected east this afternoon and evening, persisting tomorrow morning before weakening south-southwest of WA through the day.
The SW groundswell should arrive Sunday afternoon, maintaining 4ft sets across Middleton, then easing back from 3-4ft on Monday morning. The swell won't be ideal for the Mid with easing 1ft to possibly 2ft sets. Winds on Monday look great for the South Coast, fresh out of the NW most of the day, with N tending NW winds on the Mid.
Looking at the remainer of the week and reinforcing pulses of SW swell are due from weaker, but persistent frontal activity under the country and along the polar shelf on the weekend and early next week. Winds will vary, swinging onshore Tuesday for the South Coast but back offshore Wednesday and Thursday ahead of further storm activity next weekend. More on this Friday.