Fun south swell followed by west swells
South Australian Surf Forecast by Craig Brokensha (issued Monday July 5th)
Best Days: South Coast tomorrow, Wednesday and Thursday morning, Mid Coast late Wednesday and Thursday for the keen, similar Sunday afternoon and Monday
Features of the Forecast (tl;dr)
Smaller surf tomorrow ahead of a new, mid-period S'ly swell late in the day, peaking Wed
N tending variable winds tomorrow, N/NE tending N/NW on Wed
Easing swell Thu with mod-fresh N/NE winds
Building W swell Wed PM, easing Thu AM, with a similar pulse for Fri PM, easing Sat AM
Moderate sized W swell building Sun with fresh N/NW winds, holding Mon with fresh W/NW winds
Recap
A good, strong S/SW swell for Saturday with favourable winds for protected spots down South, cleaner into yesterday but back in size to 3ft or so across Middleton. The Mid Coast was average and onshore, to 2ft on Saturday, bumpy and back to 1ft yesterday.
This morning we've got really fun, clean 2-3ft surf continuing down South with tiny, clean 0.5ft sets on the Mid.
This week and weekend (Jul 6 - 11)
We'll see the surf bottom out through tomorrow temporarily, coming in around 2ft across Middleton (tiny to flat on the Mid) and with great conditions under a N'ly tending variable wind.
Our new, mid-period S'ly swell for late in the day but more so Wednesday is on track, with it generated by a relatively weak but favourably projecting fetch of W/SW tending SW winds up through our southern swell window, south-west of Tasmania yesterday's and today.
We should see fun 3ft sets across Middleton with a touch more size across more exposed breaks, though not as much as normal owing to the southerly swell direction. The Mid will be tiny to flat owing to the southerly swell direction.
Conditions will be great all day again with a moderate N/NE tending N/NW breeze, with similar moderate to fresh N/NE winds due Thursday as the swell eases from a smaller 2ft.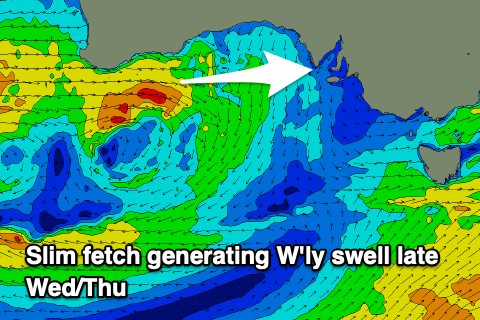 Unfortunately following this swell there's nothing really of note at all until next week. Therefore make the most of today, tomorrow and Wednesday's waves.
Looking over to Western Australia we've got a stalling mid-latitude low with multiple fronts spinning around it, though most of the activity is generally too far north of our swell window.
We will see tricky bursts of strong to gale-force slipping under Western Australia this afternoon and evening, producing a small pulse of W'ly swell for Wednesday afternoon, kicking to 1-2ft near dark, peaking overnight and easing Thursday from a similar size.
Into Wednesday we'll see a secondary, weakening front passing under WA and into the Bight should produce another small W/SW swell for later Friday to 1-2ft, easing from a similar size Saturday morning.
Winds will shift from the N/NE to W/NW on Friday as the weak front moves through, NE tending N on Saturday. These swells aren't due to really impact the South Coast with tiny surf due to continue across Middleton.
On the weekend we'll see a stronger and better swell producer pushing in from the west, bringing more size to the Mid on Sunday/Monday. At this stage it looks like we'll see the Mid kicking to 2-3ft through the afternoon Sunday but with fresh N/NW winds, similar in size Monday and with fresh W/NW winds.
The South Coast should see a little more size but less so Sunday and more so Monday with sets increasing to 3ft+ across Middleton with that W/NW breeze.
Following this it looks like we may see a flurry of stronger frontal activity from later in the week through the next weekend and beyond, but we'll have a closer look at this Wednesday.