Friday, 24 July 2020
Slow weekend with a good run of swell and conditions from next week
South Australian Forecast by Craig Brokensha (issued Friday 24th July)
Best Days: South Coast tomorrow morning, and desperate surfers Sunday morning, both coasts from Tuesday next week
Recap
Tiny and clean 1-1.5ft waves early yesterday on the Mid Coast, tiny into the afternoon and peaky and micro today. The South Coast has been clean and great to 2ft off Middleton yesterday and today, cold but remaining clean into the afternoons.
This weekend and next week (Jul 25 - 31)
We've got a couple of flukey new swells on the cards for the tomorrow, the most reliable arriving from the south-west, generated by a tight and intense but southward tracking low that formed south-southwest of WA Wednesday.
This short-lived system produce a fetch of gales in our swell window and this should keep inconsistent 2ft sets hitting Middleton (possible rare bigger one). The second pulse of flukey swell will be out of the W, generated by a tricky mid-latitude low moving in under WA and now sitting in the Bight, producing a fetch of strong W/SW winds just in the Mid Coast's swell window.
This swell should build through the day and reach 1-1.5ft, with both swells fading Sunday from 1ft to maybe 1.5ft on the Mid Coast, 1-2ft across Middleton.
Conditions should be clean across both coasts in the morning with a variable offshore wind, giving into weak afternoon sea breezes. Sunday looks similar though winds will likely swing NW-W/NW through the afternoon.
This change in wind will be ahead of a trough moving through early Monday, bringing poor and strong S'ly tending S/SE winds on the South Coast, S/SE on the Mid. Some new inconsistent and long-range W/SW groundswell energy is due, produced in the southern Indian Ocean all week and this looks to provide infrequent 1-1.5ft waves through Monday and Tuesday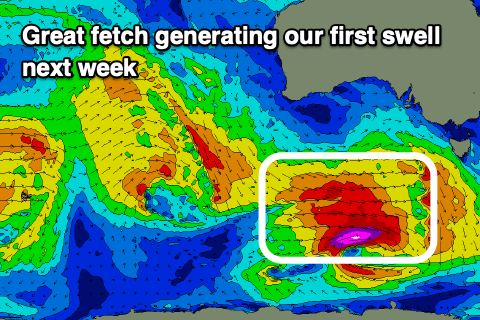 Also in the mix and with an upgrade in size for the South Coast is a new SW groundswell due to build Tuesday and then ease Wednesday.
This swell which was looking best for the Mid will now form a little further south in latitude, with a strengthening frontal progression dipping east-southeast through our swell window on the weekend and early next week.
A fetch of strong W/SW winds will reach gale to severe-gale through Sunday while sitting in our south-western swell window, then moving east and under Tassie on Monday.
A moderate sized and long-period SW tending S/SW groundswell should be seen from this source, arriving Tuesday and kicking to 3-4ft across Middleton, while the Mid Coast looks to persist around 1ft to possibly 2ft. Winds should improve rapidly as another front approaches from the west bringing N/NE tending N/NW winds. The Mid should see a dawn NE'ly, bumpy into the afternoon and cleaning up late again.
Come Wednesday the swell will be on the ease as a front moves through swinging winds W/NW-W/SW.
Wednesday's front will be attached to a much broader but patchy frontal progression moving in from the west through early week, with some better W/SW groundswell on the cards for the Mid Coast Thursday with hopefully variable winds as the fronts slip to the south-east.
Longer term, on the back of this progression a more significant low is on the cards, generating a larger swell for next weekend with favourable winds again. More on this Monday though. Have a great weekend!