Monday, 9 December 2019
Poor week, improving from the weekend
UNLESS YOU LIVE AT THE BEACH, PLEASE DON'T TRAVEL TO SURF
COVID-19 is changing the way we think about surfing. Travelling to the surf now means you're putting an unnecessary strain on the resources of small regional communities. So, please stay home. If you live near the beach and want to surf, please maintain a healthy spacing in the lineup, don't hang in the carpark, and keep your surf sessions shorter to allow others the opportunity to get wet. Above all, stay happy, healthy and look out for one another.
South Australian Forecast by Craig Brokensha (issued Wednesday 4th December)
Best Days: Desperate surfers South Coast Sunday morning, Monday morning South Coast
Recap
A good new pulse of S/SW swell Saturday with light onshore winds and fun, workable conditions, cleaner Sunday and with good options from Parsons to Goolwa. The Mid Coast was clean all weekend but tiny to flat.
Today there's no swell left on the coast and a cooler onshore change has moved through.
This week and weekend (Dec 10 - 15)
As touched on in last week's updates, this period is looking very average for surf and also local winds.
A large blocking high is moving in from the west, with it extending all the way out into the Indian Ocean. This will bring persistent onshore winds from the southern quadrant as well as blocking our main swell windows.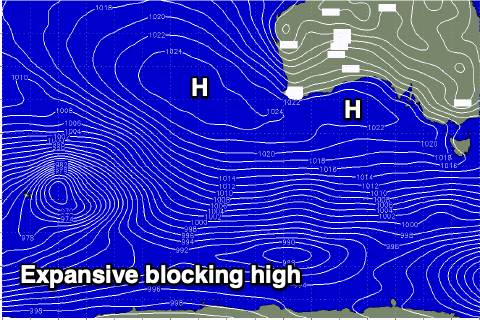 There's no decent swell due at all this week, with a very small S/SW swell possibly producing a small 1-2ft wave off Middleton tomorrow afternoon but with a moderate to fresh S'ly breeze, persisting from the S/SE on Wednesday, kicking up a weak windswell to 2ft+ or so.
Winds will weaken a little into Thursday but persist from the S/SW, tiny Friday morning with S/SW winds. A tiny and very inconsistent W/SW swell may be seen on the Mid Coast Thursday to 1ft, cleanest in the morning for beginners.
A very weak but persistent front moving through our swell window over the coming days should produce a small S/SW swell for Friday afternoon and Saturday morning. Size wise, we'll only be looking at 2ft sets max along the Middleton stretch but winds will remain onshore from the W/SW-SW, possibly W'ly dawn around Victor, but not worth driving any distance for.
Sunday morning looks to offer more variable and locally offshore winds but the swell will be small to tiny, 1-1.5ft across Middleton, 2ft at Waits and Parsons.
The only significant swell for the longer term is a very inconsistent W/SW groundswell for next Monday, generated by a distant and relatively innocuous storm developing north of Heard Island, moving east-southeast through our swell window. A good fetch of gale-force W/NW winds will be generated, but the distance between the storm and our state will result in a loss of size and consistency.
The swell may be seen late on Sunday but should peak through Monday to an inconsistent 3ft off Middleton and 1ft+ on the Mid Coast with a local offshore wind ahead of sea breezes. More on this Wednesday though.