Friday, 6 December 2019
Get stuck in this weekend
UNLESS YOU LIVE AT THE BEACH, PLEASE DON'T TRAVEL TO SURF
COVID-19 is changing the way we think about surfing. Travelling to the surf now means you're putting an unnecessary strain on the resources of small regional communities. So, please stay home. If you live near the beach and want to surf, please maintain a healthy spacing in the lineup, don't hang in the carpark, and keep your surf sessions shorter to allow others the opportunity to get wet. Above all, stay happy, healthy and look out for one another.
South Australian surf forecast by Craig Brokensha (issued Friday 6th December)
Best Days: South Coast Saturday and Sunday mornings
Recap
A window of clean conditions early yesterday off the South Coast with plenty of 3ft sets off Middleton, though shifting onshore shortly thereafter. The Mid Coast was a bumpy 1ft+ improving into the afternoon with light winds.
Onshore winds persisted today with a drop in swell back to 2-3ft, clean on the Mid but a tiny 1ft.
This weekend and next week (Dec 7 - 13)
There's plenty of swell on the cards for the weekend across the South Coast with a new S/SW swell due to fill in tomorrow. This is being generated by a broad and final frontal system projecting a fetch of strong W/SW-SW winds through our southern swell window today, right off Tasmania.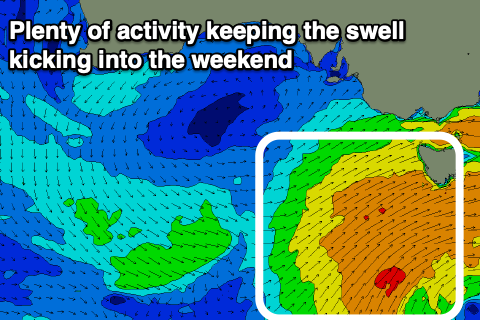 Middleton should maintain easy 3ft sets and winds are looking a little more workable tomorrow morning. A light SE-E/SE breeze will add some slight lump and bump but with the quality of the swell it'll be well worth getting a surf in through the morning ahead of the fresher afternoon sea breezes. The Mid Coast will be tiny and to 0.5ft.
There should still be a bit of size left into Sunday morning, with the swell magnets the go, easing back from 2ft along Middleton, bigger and to 3ft+ at Waits and Parsons. Winds will swing around to the NE, possibly N/NE at times, favouring Goolwa and those exposed beaches.
Come Monday there isn't expected to be any size left at all with maybe a fading 1-2ft wave off Waits and Parsons but with windy and strong NW winds at dawn, shifting SW shortly thereafter.
Most of next week looks poor, so make the most of the weekend.
A high moving in Monday afternoon will bring persistent onshore S'ly winds and a poor windswell to the South Coast Tuesday through Friday, even persisting into next weekend. This spells poor conditions for the longer term.
There's the possibility of a very inconsistent W/SW groundswell Thursday on the Mid Coast, generated in our far far swell window and only to an infrequent 1ft.
There's no real swell potential long term so get stuck in this weekend. Have a great weekend!