Monday, 25 November 2019
Poor outlook for the coming week or two
UNLESS YOU LIVE AT THE BEACH, PLEASE DON'T TRAVEL TO SURF
COVID-19 is changing the way we think about surfing. Travelling to the surf now means you're putting an unnecessary strain on the resources of small regional communities. So, please stay home. If you live near the beach and want to surf, please maintain a healthy spacing in the lineup, don't hang in the carpark, and keep your surf sessions shorter to allow others the opportunity to get wet. Above all, stay happy, healthy and look out for one another.
South Australian Forecast by Craig Brokensha (issued Monday 25th November)
Best Days: South Coast Wednesday morning, keen surfers Friday morning South Coast
Recap
Great waves all weekend across the Mid Coast with a new W/SW swell filling in, building from a small 1-2ft Saturday morning to 3ft+ with the help of the tide into the afternoon, holding 2-3ft Sunday with light winds.
The South Coast was small and clean Saturday morning, with the new swell kicking into the afternoon and best Sunday with good 3ft+ sets off Middleton and offshore winds.
Today there's still fun 1-2ft waves on the Mid Coast, 3ft off Middleton with favourable winds across both coasts.
This week and weekend (Nov 26 – Dec 1)
We'll see the surf continue to drop in size tomorrow and conditions will be poor in the wake of a strong SW change this evening.
Strong but easing SW tending S/SW winds will persist tomorrow along with a mix of windswell on the South Coast to 2ft+ off Middleton, 1-2ft on the Mid Coast.
An inconsistent SW groundswell should be seen in the mix Wednesday but not over 2ft+ off Middleton and 1ft+ on the Mid Coast with much better conditions. A morning N'ly is due down South, E/NE to NE on the Mid Coast ahead of afternoon sea breezes.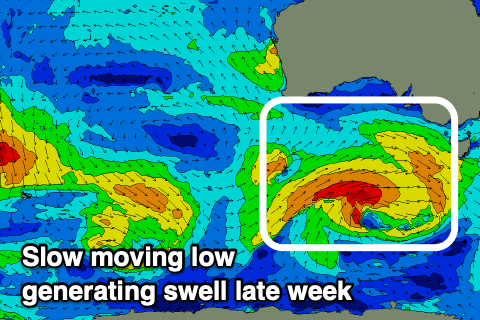 A low point in swell is expected on Thursday morning with lingering onshore winds down South ahead of a new mid-period S/SW swell later in the day but more so Friday.
This will be generated by a relatively weak but sustained fetch of strong W/SW winds projecting towards us from south of WA tomorrow, onwards east to Tassie tomorrow and Thursday while slowly weakening.
The swell should arrive later Thursday but peak Friday with sets to 3ft off Middleton, tiny and to 1ft or so on the Mid Coast. Unfortunately winds will linger from the SE across the South Coast (though only light and workable), clean on the Mid, persisting Saturday from the S'th as the swell eases.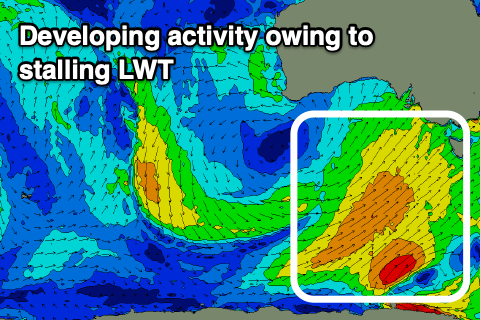 From late Sunday but more so early next week we'll see building levels of sizey S/SW swell along with south-west winds.
This will be linked to a strengthening and stalling node of the Long Wave Trough forming east of us from late week, directing strengthening and broadening polar fronts up and into Tasmania and Victoria.
We'll actually see a broad fetch of strong to gale-force S/SW winds drawn out from us to the polar shelf with a few stronger embedded bursts, generating building levels of S/SW swell.
Winds look generally out of the SW which won't favour anywhere, but more on this in Wednesday and Friday's updates.