Wednesday, 20 November 2019
Average end to the week, much better weekend
UNLESS YOU LIVE AT THE BEACH, PLEASE DON'T TRAVEL TO SURF
COVID-19 is changing the way we think about surfing. Travelling to the surf now means you're putting an unnecessary strain on the resources of small regional communities. So, please stay home. If you live near the beach and want to surf, please maintain a healthy spacing in the lineup, don't hang in the carpark, and keep your surf sessions shorter to allow others the opportunity to get wet. Above all, stay happy, healthy and look out for one another.
South Australian Forecast by Craig Brokensha (issued Wednesday 20th November)
Best Days: Mid Coast early Friday, Saturday afternoon Mid Coast, Saturday morning South Coast, Sunday both coasts, Monday morning both coasts
Recap
Small, bumpy but straight waves for the keen down South yesterday, cleaner today but the wind will soon kill it. The Mid Coast was 0.5-1ft yesterday, back to 0.5ft today with building heat.
This week and weekend (Nov 21 - 24)
The South Coast will be average over the coming days with a low point in swell tomorrow along with a dawn W/NW breeze, shifting strong W/SW-SW shortly thereafter. The Mid Coast will be tiny, increasing in size with the change, but only being windswell and to 1-1.5ft or so.
A small new mid-period W/SW swell is due Friday, produced by a good though distant fetch of strong W/SW winds south-west of WA the last day or so. This should keep the Mid Coast around 1-1.5ft on Friday, 1-2ft down South with an early S/SE breeze on the Mid Coast, tending SW through the day and S/SW winds all day down South.
Of greater importance is the W/SW-SW swell event into the weekend and early next week.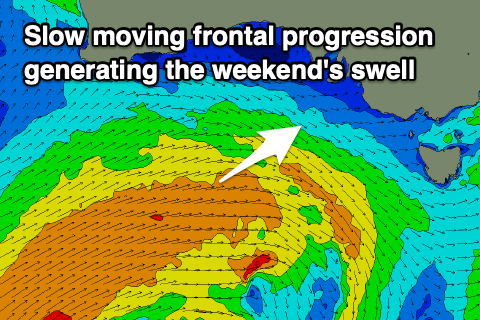 As pointed out on Monday, a strong and multi-staged frontal progression will roll in from the south-west of WA, forming today and continuing slowly east through the end of the week and weekend.
The initial stages of the progression will be strongest, with winds now forecast to be mostly gale-force today and early tomorrow, weakening as secondary fetches of strong W/SW winds push closer towards us and more into our western swell window on top an active sea state.
This will produce a moderate sized W/SW swell that's expected to build Saturday and peak Sunday from the SW, mixed in with the mid-period energy.
There's been no real change to the size with the Mid Coast expected to start tiny but build to 2ft+ with the help of the incoming tide. Middleton should build to 3-4ft later in the day (mcuh smaller and 2ft early), with Sunday morning seeing similar sized waves on the Mid Coast, 4ft off Middleton.
Winds still look favourable during the mornings for both coasts over the weekend, with Saturday seeing variable winds on the Mid, tending W/SW from mid-late morning and early W/NW tending SW late morning down South.
Sunday looks great with an E/SE offshore on the Mid, NE down South before sea breezes kick in late morning/midday.
The easing trend will be slowed into early next week as a couple of weaker mid-latitude fronts push in under the country over the weekend. The second of these will initially produce a distant fetch of W/SW gales, generating an inconsistent groundswell for Wednesday.
But coming back to Monday and easing sets from 3ft+ are due off Middleton, 1-2ft on the Mid Coast with variable winds ahead of an approaching front and S/SW change.
This change will be linked to a broad but relatively weak cold front pushing up and into us, generating an increase in mid-period SW swell for the middle of the week, but more on this Friday.