Monday, 18 November 2019
Good swell into the weekend
South Australian Forecast by Craig Brokensha (issued Monday 18th November)
Best Days: Mid Coast keen surfers Friday, both coasts Saturday and Sunday, South Coast Monday
Recap
Clean, tiny 1-1.5ft waves on the Mid Saturday morning, back to a tiny 0.5-1ft yesterday and continuing today.
The South Coast offered fun waves with weak but onshore winds and a good mid-period S/SW swell to 3-4ft on Saturday, bumpier into the afternoon as winds freshened.
Yesterday was a bit smaller and bumpier with the wind being moderate out of the S'th, much better today with offshore winds and a further drop in swell.
This week and weekend (Nov 19 - 24)
The next few days are looking to be lay days with an onshore change this evening lingering into tomorrow, leaving S/SE winds on the coast as the surf continues to drop in size. The Mid will be clean though tiny to flat and the South Coast a bumpy 1-2ft.
A fresh to strong N/NE tending stronger N/NW wind is expected on Wednesday but with no new swell. A stronger overnight SW change won't bring any swell with it into Thursday and winds will remain poor with strong but easing SW tending S/SW winds.
Come Friday a small mid-period W/SW swell is likely to show, generated by the earlier stages of the front, with 1-1.5ft waves on the Mid Coast and 1-2ft of swell off Middleton with S/SE tending SW winds on the former and S/SW winds down South.
Of greater importance is the frontal progression firing up south-west of WA on Wednesday.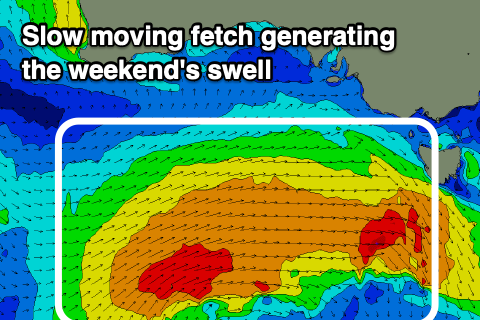 This broad and multi-staged frontal progression will produce an initial fetch of strong W/SW winds, with a few embedded gales forecast to move slowly east through our western swell window. The progression will weaken slightly Thursday evening before a secondary front fires up on its tail, projecting an additional fetch of slow moving W/SW winds towards us Friday and Saturday but in our south-western swell window.
A moderate sized and prolonged W/SW tending SW swell event is expected, building Saturday afternoon and holding Sunday morning before slowly easing.
Size wise the Mid Coast should build to a fun 2ft+ Saturday afternoon, holding around that size across the magnets Sunday on the favourable parts of the tide, while Middleton should build to the 4ft range Saturday afternoon, easing slowly Sunday from a similar size.
Winds on Saturday morning look favourable for both coasts with a NW offshore down South, N/NE on the Mid, tending W/NW through the morning and then W/SW-SW into the afternoon.
Sunday should see local offshore NE winds ahead of weak sea breezes. Therefore there should be plenty of options for a wave on the weekend. Monday looks great as well with the easing swell and N/NE offshores, but more on this Wednesday.
One final note, many would have heard of, if not known 'Nasty' Nigel, a big part of the South Australian surfing community. He sadly passed away yesterday and our thoughts go out to his huge amount of friends and family. RIP Uncle Nigel.