Monday, 5 August 2019
Increasing wind and swell towards the end of the week
South Australian Forecast by Craig Brokensha (issued Monday 5th August)
Best Days: Mid Coast for keen surfers tomorrow, stormy spots Friday morning, Mid Coast Saturday, South Coast early next week
Recap
Great waves all weekend down South with a mix of swells between 3-4ft off Middleton and favourable winds, best Sunday with all day offshores. The Mid Coast was a clean and tiny 1-1.5ft on Saturday morning, tiny into Sunday.
Today the surf is on the ease and best at swell magnets across the South Coast this morning, bumpy and tiny on the Mid.
Today's Forecaster Notes are brought to you by Rip Curl
This week and weekend (Aug 6 - 11)
There isn't expected to be much swell left across the South Coast tomorrow with the size easing off further, but a new pulse of W/SW groundswell for the Mid Coast is still on track.
This was generated by a tight and intense mid-latitude low weakening while moving into our swell window on Saturday, west-southwest of WA.
A good fetch of strong to gale-force W/SW winds were generated in our western swell window, with the swell possibly showing late today, but peaking tomorrow morning to 1-2ft on the favourable parts of the tide. The South Coast looks to be small to tiny and only maybe 1ft+ off Middleton and 2ft+ at Waits and Parsons.
Winds will vary tomorrow with a fresh and early N/NE'ly, swinging weaker N/NW and then W/NW into the afternoon down South, only N/NW-NW on the Mid Coast creating workable though not great conditions most of the day.
The swell is due to fade Wednesday morning and local offshore winds will create clean conditions (E/NE Mid Coast and E/NE tending N/NE down South) but with tiny amounts of swell.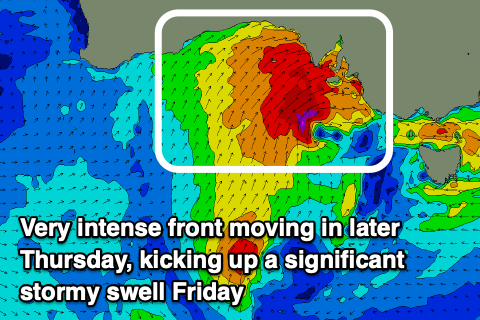 Later in the day and more so Thursday, a weakening mid-latitude frontal system will bring a strong W'ly change and increase in W/SW windswell across both coasts. The Mid looks average and to 2-3ft with semi-stormy conditions, cleaner on the South Coast in protected spots with a strengthening W/NW breeze but only a small 2ft wave off Middleton.
A secondary much stronger mid-latitude front moving in later in the day may see the Mid Coast kicking more towards 3ft+ on dark, but come Friday we'll be seeing stormy 4-5ft of surf (easing through the day) with strong but easing SW winds.
The South Coast also looks to come in around a similar stormy 4-5ft though with similar poor conditions under that SW breeze.
The front will spawn into a low in Bass Strait on Friday, moving slowly north-east through Saturday and this will keep poor and strong S'ly winds impacting the South Coast on Saturday along with a moderate sized S/SE swell from a fetch of strong to gale-force S'ly winds on the Tasmanian West Coast.
The Mid Coast will become cleaner though still be wind affected with the S-S/SW breeze, easing back quickly from the 2ft range.
Onshore S/SW winds look to linger Sunday as the size continues to drop down South, better into Monday as a high starts to move in from the west. We may see a new long-period S'ly groundswell for Tuesday next week, generated by a very strong but late forming polar low, south-west of Tasmania. The models diverge on where exactly this low will form, so we'll have to wait until Wednesday and maybe Friday to put size estimates on next Tuesday.