Friday, 19 July 2019
Large and significant swell inbound
South Australian Forecast by Craig Brokensha (issued Friday 19th July)
Best Days: South Coast every day this period, though best tomorrow morning, Sunday, Tuesday morning and Wednesday onwards
Recap
Tiny and poor waves on the Mid Coast yesterday, cleaner today though mixed with a tiny W/SW groundswell and NW windswell combo. Keep an eye on a new W/SW groundswell this afternoon that should reach 1-2ft as winds remain favourable.
The South Coast eased from a fun 2-3ft off Middleton yesterday morning, windy, smaller and bumpy into the afternoon and small to start today. The new swell should kick to 3ft off Middleton as winds become variable but from the northern quadrant.
Today's Forecaster Notes are brought to you by Rip Curl
This week and weekend (Jul 20 - 26)
These notes will be short as Ben's on annual leave.
This afternoon's increase in W/SW groundswell will ease tomorrow from a similar size across both coasts, 3ft on the sets along the Middleton stretch and 1-2ft on the Mid Coast though winds will become gusty out of the N/NW, favouring the South Coast.
This will be ahead of a strengthening and tight low moving right across us tomorrow evening, producing a pulse of W/SW swell for both coasts Sunday morning, though easing rapidly later in the day and small to tiny Monday.
The Mid Coast looks to come in at 2ft+ on Sunday but with moderate to fresh W/NW winds, possibly tending NW later. The South Coast will be best but the swell extremely west and only 2ft off Middleton, 3ft towards Day St.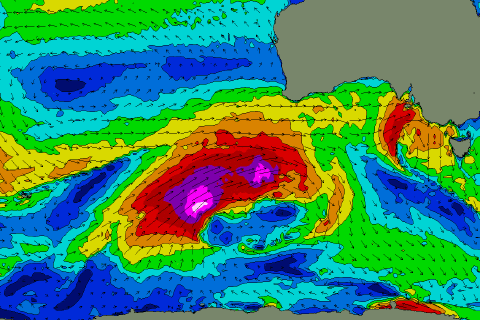 Come Monday there isn't expected to be much size left down South with strong persistent N/NW winds, but the Mid looks to hang around 1-2ft though choppy.
Later in the day Monday but more so Tuesday we're expecting to see a very large and powerful W/SW groundswell owing to a strong node of the Long Wave Trough moving in from the west.
A significant fetch of severe-gale to storm-force W/NW and W/SW winds are forecast to be projected through our western swell window, south-west of WA on the weekend before the progression moves further east and under the country early next week.
A large, and prolonged long-period W/SW groundswell event will be seen, likely arriving late Monday but building to a peak Tuesday afternoon. The Mid Coast looks to build to 4ft into the afternoon, with Middleton building to 5-6ft+.
The easing trend will be slowed as a great fetch of W/SW-SW gales remain in our swell window on Monday. A good reinforcing SW groundswell will likely be seen into the afternoon Wednesday ahead of another SW swell later week.
Looking at the local winds and a morning fresh W/NW breeze Tuesday morning will shift more W'ly through the day and likely W/SW into the afternoon, with W/NW-NW winds most of Wednesday as the swell slowly eases, NW Thursday. More on this Monday though, have a great weekend!