Friday, 12 June 2015
Fun weekend down South, average into next week
South Australian Forecast (issued Friday 12th June)
Best Days: South Coast over the weekend, later Monday and Tuesday for keen surfers at exposed spots down South
Recap
Clean tiny 1-1.5ft leftovers across the Mid yesterday, as average E'ly winds continued down South with plenty of swell.
Today The South Coast was much better with offshore winds and a fun swell opening up plenty of options from Middleton to Waits. The Mid was back to the tiny 0.5-1ft range.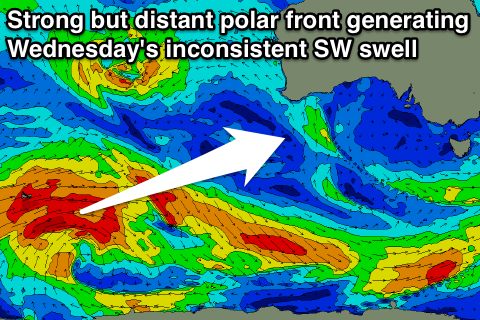 This weekend and next week (Jun 13 – 19)
Exposed spots will be the pick over the weekend with small amounts of swell (biggest tomorrow morning) under generally favourable winds.
Middleton should offer inconsistent 2ft to nearly 3ft sets with 3ft to near 4ft waves at Waits and Parsons tomorrow morning under N/NE tending NE (variable) winds.
Sunday will be smaller and clean again with N/NE tending E/NE winds.
Come Monday morning the swell is due to be tiny with fresh offshore NE winds. A slight kick in size is due into the afternoon as winds ease, but only to a very infrequent 2ft+ at Waits and Parsons.
Tuesday will remain similarly small with early favourable winds before a shallow onshore wind develops.
Moving into Wednesday and the rest of the week, a mix of long-range and very inconsistent SW groundswell and building S'ly windswell are due across the region.
The long-range energy is being produced by a strong and broad polar frontal progression that's fired up south-east of South Africa, with it due to continue east over the coming days before breaking down south-west of WA tomorrow evening.
A very infrequent and relatively small swell is due, building through Wednesday, peaking later in the day. Middleton should offer infrequent 2-3ft sets with 3-5ft waves at Waits and Parsons. The Mid should kick to 1ft.
Unfortunately a deepening low off the East Coast looks to direct a S/SE fetch into us during Wednesday afternoon through the end of the week, creating poor conditions while kicking up some S'ly windswell.
The Models are still divergent on the make-up of this system, so check back here Monday for the latest on this. In the meantime, have a great weekend!