Monday, 8 June 2015
Large and onshore tomorrow, easing and improving into the end of the week
South Australian Forecast (issued Monday 8th June)
Best Days: later Tuesday on the Mid, South Coast and Mid Wednesday, South Coast from Thursday through Sunday
Recap
Pumping weekend of waves down South again with a good building but inconsistent W/SW groundswell through Saturday with favourable winds, clean and around 2ft on the Mid as well, with a slight drop in size through yesterday with stronger and trickier offshores.
Today another new pulse of SW groundswell is building across both coasts but with strengthening NW tending W/NW winds, favouring protected locations across the South Coast and creating deteriorating waves on the Mid.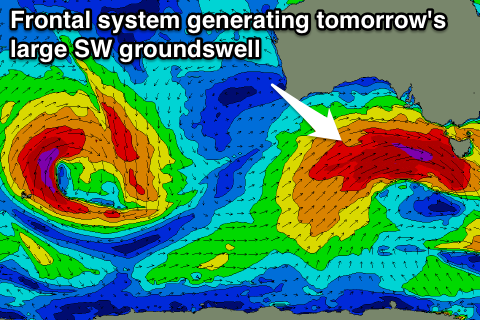 This week and weekend (Jun 9 – Jun 14)
A strong pulse of SW groundswell through today will be followed up by a larger pulse tomorrow, but the size has been downgraded a touch with the fetch of storm-force winds due to be generated through our swell window, now being weaker and from a less favourable W/NW fetch.
Still, we should see Middleton come in at a large 6ft tomorrow morning with 8ft sets at Waits and Parsons and other exposed breaks with 2-3ft waves on the Mid Coast.
Winds will be poor down South though as an onshore change moves through early tomorrow morning, leaving a fresh but easing SW tending S'ly breeze. This should see improving waves on the Mid into the afternoon and evening though, worth a late paddle.
Come Wednesday the swell should ease out of the S/SW, but this will be softened by a trailing fetch of SW gales aimed through our swell window on the backside of the frontal system generating tomorrow's swell. Moderate to large waves are then due to continue through Wednesday before easing Thursday and more noticeably into Friday and the weekend.
Conditions will improve across the South Coast Wednesday but still remain far from perfectly lined up with a light morning E/NE-NE wind, while Thursday looks to play out similarly ahead of better N/NE breezes Friday and then straight offshores over the weekend.
Size wise, Waits and Parsons will still be too big Wednesday, with Middleton the pick, while Thursday morning will still be a bit dicey, but Friday onwards looks fun. The Mid should still offer 2ft sets tomorrow morning, fading into the end of the week and weekend.
Longer term an upper level blocking pattern is due to move in from the west later this week resulting in smaller surf into the weekend and early next week. The next node may move in the middle of the following week, but we'll review this Wednesday.