Monday, 25 May 2015
Building swells with windows of clean conditions
South Australian Forecast (issued Monday 25th May)
Best Days: South Coast Tuesday for beginners, South Coast Wednesday, Mid Coast Wednesday afternoon, Thursday South Coast, Friday morning South Coast, Saturdayand Sunday morning South Coast
Recap
Great surf all weekend down South with a moderate to large and easing S/SW groundswell Saturday under light offshore winds that only tended E/NE into the afternoon, keeping conditions relatively clean.
Sunday was excellent with all day offshore N/NE winds and fun amounts of swell from Middleton to Waits for all surfing abilities.
Today the swell was smaller and best at exposed beaches on the South Coast as offshore winds continued.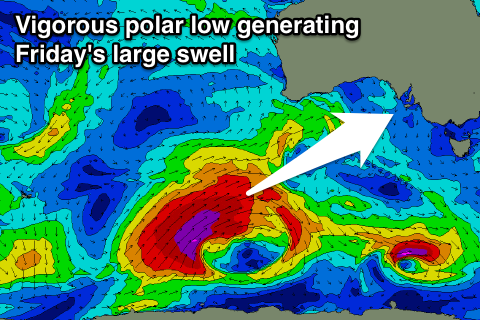 This week (May 26 - 29)
Tiny leftover waves tomorrow, not really worth the drive from Adelaide, but conditions will be excellent for beginners with a light to moderate offshore N'ly breeze.
Into Wednesday a mix of long-range and inconsistent W/SW groundswell along with some closer-range energy is due. The Mid Coast should see some good 1-2ft sets developing into the afternoon and conditions should become workable with a fresh N/NW tending lighter W/NW breeze with an approaching front. There's even a chance for more variable breezes late, so keep an eye on the South Port surfcam.
The South Coast should offer infrequent 3ft sets at Middleton with 4ft+ waves at Waits and Parsons. The morning will probably be the best at exposed breaks.
A much larger and stronger SW groundswell is due into later Thursday and Friday though, produced by a vigorous polar low being projected up towards us from the Heard Island region by the Long Wave Trough.
Currently a fetch of storm-force W'ly winds are being generated around Heard Island, with the low due to push north-east and aim a fetch of weaker severe-gale SW winds towards us. A large and powerful long-period SW groundswell will result, peaking Friday.
The front generating this swell will race a touch ahead of it into Wednesday, producing a building SW groundswell through Thursday, reaching an easy 4ft at Middleton and 5-6ft at Waits and Parsons into the afternoon, just as morning offshore NW winds give way to a SW change.
The Mid Coast should hang in the 1-2ft range all day, but with poor conditions.
Come Friday the South Coast is expected to see large 6ft sets across Middleton and 8ft+ waves at Waits and Parsons and offshore reefs, while the Mid should come in at 2-3ft+.
Winds look average for the Mid and onshore from the W/SW, while the South Coast should see W/NW tending W/SW breezes, favouring protected locations.
This weekend onwards (May 30 onwards)
The swell will remain large but ease through Saturday across the South Coast, with a reinforcing S/SW groundswell due into Sunday morning, from a trailing fetch of severe-gale SW winds on the tail of the polar frontal progression.
Conditions look great for the South Coast with a fresh NW tending W/NW breeze and easing 4-6ft waves at Middleton and 6ft to occasionally 8ft bombs at Waits. The Mid Coast will be an average 2ft to possibly 3ft.
A new large swell is on the cards for Monday generated by another weaker polar front pushing up towards us through the weekend, but winds look as if they'll be poor and onshore. More on this Wednesday though.