Wednesday, 29 April 2015
Fun waves to come, great Sunday
South Australian Forecast (issued Wednesday 29th April)
Best Days: Thursday morning and Friday down South, later Saturday on the Mid, Sunday both coasts, Monday morning South Coast, Tuesday afternoon South Coast
Recap
Workable and OK waves across the South Coast yesterday morning with a light variable wind, while the Mid saw some fun tiny 1ft+ waves all day across most breaks.
Today the South Coast was similar with a touch less size and light morning E'ly breeze while the Mid was continuing in the tiny 0.5-1ft range.
This week (Apr 28 – May 1)
The South Coast will continue to be the pick into the end of the week, with Friday offering the best conditions with a full day of fun, clean but small waves.
Tomorrow morning is expected to start small ahead of a slight lift in S/SW groundswell through the afternoon. Exposed breaks will be the pick but expect peaky and wobbly conditions under a morning E/NE wind ahead of a weak afternoon sea breezes.
Friday will be much straighter with a N/NE tending N/NW wind and easing inconsistent 2ft waves at Middleton with 3ft+ sets at Waits and Parsons.
The Mid Coast is due to be tiny both days, maxing at 1ft Friday but becoming slightly wind affected.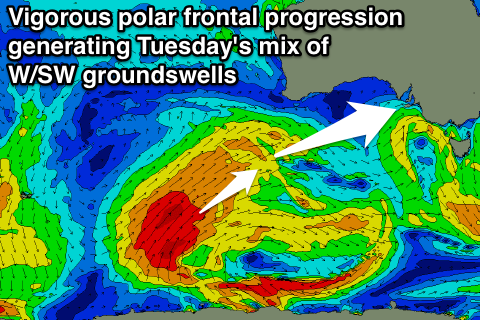 This weekend onwards (May 2 onwards)
The Mid Coast is expected to see a bit more action over the weekend now as a small and intense mid-latitude low fires up just under WA Thursday night and pushes east through the Bight. A fetch of strong to gale-force W/SW winds will be aimed through the Mid's swell window and just on the edge of the South Coast's swell window.
This should produce a moderate sized W/SW swell, building through Saturday to 2-3ft into the afternoon on the Mid before peaking overnight and easing from 2-3ft Sunday morning.
The South Coast should build to 3ft at Middleton with 4-5ft sets at Waits and Parsons later Saturday before easing from a similar size Sunday morning.
Now, winds on Saturday will be fresh from the W/NW tending SW across both coasts, and with small amounts of swell down South when winds will be good, it's not worth the drive from Adelaide.
A late easing in winds may offer a window of workable waves on the Mid Coast for keen surfers though.
Sunday looks great as a ridge of high pressure moves in from the west and winds go variable, with local land breezes expected to create clean conditions across both coasts.
The swell will ease steadily into Monday and fresh to strong N/NE tending NW winds will favour the South Coast (get in early for the best of it).
Of much greater importance and discussed in the last couple of updates is the development of a moderate to large sized W/SW groundswell next week as a strong node (peak) of the Long Wave Trough moves in from the west.
This will steer and strengthen a vigorous polar low up from the Heard Island region towards Western Australia, producing two good W/SW groundswell pulses for Tuesday while a secondary vigorous polar system forming to our south-west early next week should generate another S/SW groundswell for Thursday.
The long-range W/SW groundswell is due to arrive at the same time as a short-range swell as a strong front associated with the progression races into us, hitting Tuesday. The Mid Coast should come in at a messy 3ft with fresh to strong SW tending lighter W/NW winds, while the South Coast is due to offer 3-5ft waves at Middleton and 6ft+ sets at Waits and Parsons as conditions improve into the afternoon as winds swing W/NW.
A drop in size is due through Wednesday with better NW tending W/NW winds down South while the Mid will remain bumpy.
The secondary S/SW groundswell looks to be in the 4-5ft range at Middleton and 6ft+ at Waits with W/NW winds, but we'll have a closer look at this on Friday.