Monday, 27 April 2015
Easing surf with improving winds
South Australian Forecast (issued Monday 27th April)
Best Days: Every morning over the coming week down South for small clean waves, Sunday down South
Recap
Much improved and straighter swell across the Mid Coast Saturday with an early S/SE tending S'ly breeze and 2-3ft sets. Sunday was smaller and lumpy to 1-2ft with a lighter more variable breeze.
The South Coast offered plenty of size but conditions were poor with fresh to strong onshores Saturday which persisted into Sunday.
Today a new SW groundswell was keeping the surf up down South to 3-4ft at Middleton with larger sets at Waits and conditions were workable for a short period with an early W'ly but this has since shifted onshore to the S/SW. The Mid Coast was a tiny and sloppy 1ft or so.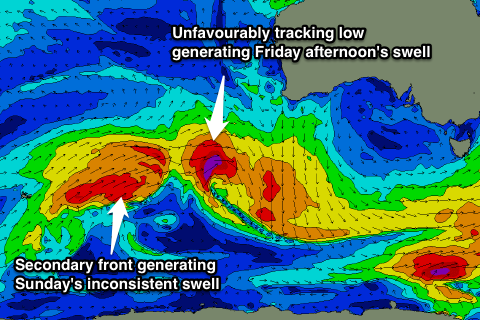 This week (Apr 28 – May 1)
Not too much in the way of size due this week with generally small amounts of swell (besides tomorrow) and favourable winds each morning.
Surfing conditions are expected to improve across the South Coast through tomorrow as winds tend variable and likely light E/NE through the morning as today's pulse of SW groundswell eases.
Middleton should still have 3ft to occasionally 4ft sets with 5ft waves at Waits and Parsons ahead of a drop through the afternoon and further Wednesday back from 2-3ft at Middleton and 3-4ft at Waits. The Mid will become tiny but be nice and clean, creating perfect conditions for beginners tomorrow.
As the swell eases Wednesday winds are due to be from the E/NE across the South Coast with Thursday playing out similarly but with smaller amounts of swell.
A very slight kick in SW groundswell from an unfavourably tracking mid-latitude low firing up to the south-west of WA is due Friday afternoon but this will just keep inconsistent 2ft sets hitting the Middleton stretch with 3ft+ sets at Waits and Parsons under great N'ly tending NW winds.
The Mid Coast may see a tiny 1ft wave into Friday afternoon and with light winds, conditions should be good for beginners again.
This weekend onwards (May 2 onwards)
The surf should hold in the small range for the start of the weekend but come Sunday an inconsistent W/SW swell generated in our far swell window should offer a touch more size.
Exposed breaks will be the go Saturday morning with a N/NW breeze ahead of a shallow S/SE change, while Sunday is expected to be clean again as an approaching front steers winds back to the N/NE. Size wise the Mid should offer infrequent 1ft sets, with Middleton offering 2ft+ sets with 3-4ft waves at Waits and Parsons.
Longer term we should see some better groundswell energy into next week, as a strong node (peak) of the Long Wave Trough moves in across southern WA later this week and towards us into next week.
With this we should see a vigorous polar frontal system fire up from the Heard Island region towards WA, generating a strong but inconsistent W/SW groundswell for Monday afternoon/Tuesday next week. We may see the remnants of this frontal system re-intensifying on our door-step early next week generating some additional short-range W/SW swell, but we'll look at this closer on Wednesday.