Great period ahead for the South Coast
South Australian Forecast (issued Friday 27th March)
Best Days: South Coast every day over the coming period, Mid Coast for small-tiny and slow waves Monday/Tuesday
Recap
Stormy and sloppy 2ft waves across the Mid yesterday with larger messy surf across the South Coast under fresh to strong S/SW winds.
Today the Mid has cleaned up but backed off to a smaller 1-2ft while the South Coast was still solid and average with a persistent onshore wind.
This weekend (Mar 28 – 29)
The large S/SW swell seen across the South Coast will ease off through this afternoon and further tomorrow, with a fun reinforcing SW groundswell just softening the easing trend through tomorrow and Sunday. The Mid Coast will become tiny and around 1ft tomorrow, even smaller into Sunday.
Middleton should ease from 3ft+ with 4-5ft sets out at Waits and Parsons,early tomorrow, dropping from 2-3ft and 3-4ft respectively Sunday morning.
Winds will be great for the South Coast and light from the N/NE tomorrow morning, tending N/NW early afternoon ahead of weak sea breezes that may just tend variable. Sunday should be great again with light to moderate N/NW winds ahead of weak afternoon sea breezes.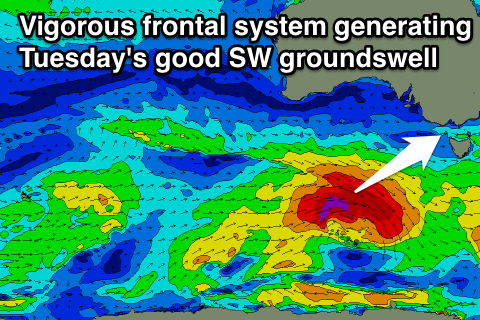 Next week onwards (Mar 29 onwards)
Our two good pulses of SW groundswell due for early next week are still on track with a couple of vigorous frontal systems due to move in one after the other under the country from today through the weekend.
An initial front has developed south-west of WA this morning and will push quickly east towards Tassie tomorrow and Sunday. A good SW groundswell from this progression will arrive late Sunday and peak Monday to 1-2ft on the incoming tide across the Mid and 3-4ft at Middleton with 4-5ft sets at Waits and Parsons.
The secondary system racing in close behind it will have more strength and is expected to produced a pre-frontal fetch of severe-gale W/NW winds followed by a tighter fetch of storm-force W/SW winds.
A strong long-period SW groundswell should be generated by this secondary system, arriving through Tuesday and peaking through the afternoon. The Mid is only due to see tiny 1-1.15ft waves as the system pushes further south and away from its swell window, while the South Coast should pulse to a bigger 3-5ft at Middleton and 4-6ft at Waits and Parsons.
Winds will be good for both coasts Monday with an offshore E'ly on the Mid and light NE-N/NE down South, while Tuesday should see slightly fresher N/NE winds down South.
A drop in size is due from Wednesday and winds should be favourable again and offshore from the N/NW ahead of an afternoon onshore change which will create poor conditions into Thursday. Longer term there's nothing significant on the cards, but we'll review this Monday. Have a great weekend!