Friday, 6 March 2015
Fun Sunday morning, good both coasts Tuesday
South Australian Forecast (issued Friday 6th March)
Best Days: Saturday morning protected spots down South, Sunday morning down South, early Monday protected spots down South, Tuesday both coasts
Recap
Good 1-2ft waves across the Mid yesterday morning with early light winds, while the South Coast offered plenty of size but poor conditions with a fresh onshore wind.

Today an early expected W'ly around Victor unfortunately failed to develop and we say plenty of swell continuing across the coast but with poor onshore winds. The Mid Coast was also average with onshore winds and 1-1.5ft of swell.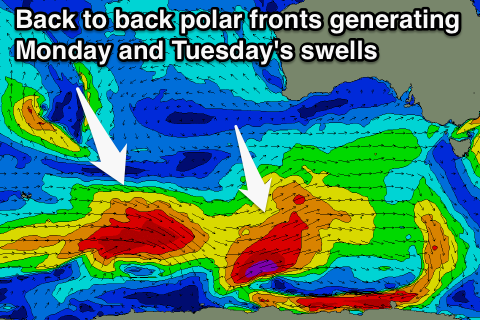 This weekend (Mar 7 - 8)
A reinforcing S/SW groundswell is due across the South Coast later today, generated by a strong frontal system that pushed up and into Victoria last night and into this morning.
This swell should keep the South Coast topped up with plenty of size into tomorrow morning, dropping back from 3-4ft at Middleton and 5ft+ at Waits and Parsons while the Mid is due to ease from 1ft+ or so.
Winds are much more likely to be from the W tomorrow morning around Victor favouring semi-protected spots, while the afternoon will see winds swinging back to the SW. The Mid is looking dicey and onshore.
Come Sunday the swell is due to be a bit smaller but still good in size to 3ft at Middleton on the sets and 3-5ft at Waits and Parsons with a W/NW breeze, likely tending NW at times ahead of a shallow W/SW change through the afternoon. The models are overcooking this forecast a bit for the Middleton stretch, so expect sets to be more around the size above.
Monday onwards (Mar 9 onwards)
Next week is looking really fun with a series of good SW groundswell pulses due across the state, generated by a progression of vigorous polar fronts firing up south-west of WA and projecting north-east towards us and then Victoria.
An initial short-lived polar front today should produce a fun SW groundswell for Monday morning to 3ft at Middleton and 4-5ft at Waits, while a secondary stronger and longer-lived front will produce a better SW groundswell for the late evening and more so Tuesday.
This should offer much better size to 4-5ft at Middleton and 6ft+ at Waits and Parsons, while the Mid should come in at a good 1-2ft.
Winds are looking good for both coasts with a W/NW tending SW breeze Monday and then variable breezes Tuesday morning.
From Wednesday moderate amounts of reinforcing SW swell are due through Thursday and Friday from weaker frontal activity under the country during the middle of next week, but the size will be a touch smaller than Tuesday's pulse.
Winds are looking a little dicey but we'll review this Monday. Have a great weekend!