Wednesday, 25 February 2015
Easing fun waves at exposed spots down South
South Australian Forecast (issued Wednesday 25th February)
Best Days: Thursday morning, Friday morning, Monday morning
Recap
The Mid offered fun clean 1-2ft waves all of yesterday under offshore tending S/SE winds, while the South Coast saw plenty of size but poor conditions with a fresh to strong S/SE'ly.
Today the Mid was easing from a tiny 1-1.5ft while the South Coast was cleaner with plenty of size to 3-4ft at Middleton under an E/NE breeze. The swell has since dropped further with afternoon sea breezes, creating average conditions.
This week and weekend (Feb 26 – Mar 1)
Into the end of the week we'll see the swell continue to drop away and conditions will be favourable across the South Coast with a variable breeze tomorrow morning creating clean but lumpy waves and then N/NE offshore winds Friday morning.
Size wise the swell will become small, with easing 2ft+ waves at Middleton tomorrow and 3ft sets at Waits, while Friday will be tiny at Middleton and around 1ft+ with Waits and Parsons coming in at an inconsistent 2ft or so. The Mid will become tiny through tomorrow and flat Friday.
The weekend isn't looking too flash with only a short window of clean conditions around dawn Saturday down south with an early fresh W/NW'ly but the swell will be tiny. A strong onshore change is then due mid-morning creating terrible conditions while also kicking up a poor windswell for Sunday, along with strong S/SE winds as well.
The Mid Coast will remain tiny, with a weak increase in windswell Saturday afternoon, likely to fade from 0.5-1ft or so Sunday morning.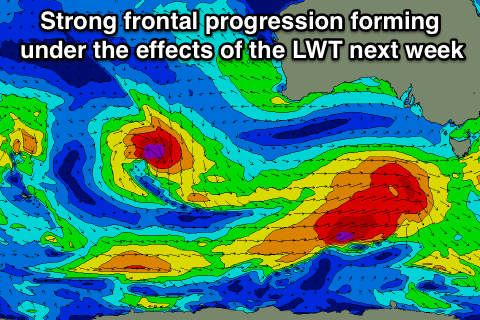 Next week onwards (Mar 2 onwards)
Monday will be OK with an easing S'ly windswell under NE breeze. Most locations should ease from a weak and peaky 2ft to nearly 3ft or so.
Longer term, as touched on in Monday's update the outlook for next week is much more active as a strengthening node (peak) of the Long Wave Trough is forecast to move in from the west over the weekend and push slowly across us through Tuesday
This will result in an increase in storm activity in the Southern Ocean, with a series of strengthening polar fronts being projected closer and closer towards us, climaxing in the strongest system through Tuesday/Wednesday. This should produce building levels of swell, likely peaking Wednesday/Thursday with winds from the southern quadrant. We'll have a closer look at this on Friday though.