Friday, 20 February 2015
Great Saturday, fun Sunday, good Mid Tuesday
South Australian Forecast (issued Friday 20th February)
Best Days: Saturday down South, Sunday morning down South, later Monday on the Mid, Tuesday on the Mid, Wednesday morning both coasts
Recap
The Mid dropped back to a tiny 1ft yesterday, while the South Coast saw a mix of S/SE windswell and building SW groundswell under improving E/NE tending NE winds before fresh sea breezes kicked in.
This morning was clean early with a light variable wind and smaller surf as we fell in between swells, but a new strong SW groundswell is now on the build but with fresh S'ly winds.
This weekend (Feb 21 - 22)
This afternoon's strong kick in SW groundswell should peak overnight and then tail off slowly over the weekend.
Conditions will be great for the South Coast though with a N/NE tending N/NW breeze through the day tomorrow ahead of possible late afternoon sea breezes.
Middleton should be easing from 3ft on the sets with 4-5ft sets at Waits and Parsons, while the Mid is expected to ease from 1ft.
Sunday should be smaller but clean again with a light and variable wind resulting in more lumpy/glassy conditions down South. Surf through the morning though as onshore winds are expected to develop from late morning.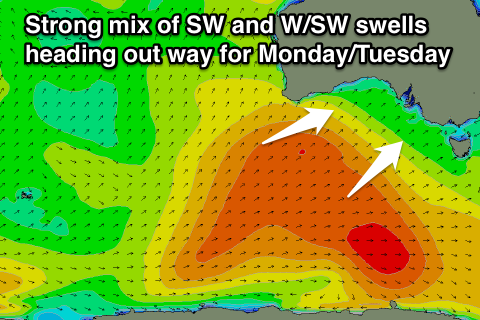 Next Monday onwards (Deb 23 onwards)
There's been no real change to the large scale developments surrounding a broad and vigorous polar low developing to the south-west of the country under the influence of a strengthening node of the Long Wave Trough.
A broad and persistent fetch of gale to severe-gale W/SW winds are already being generated in our south-western swell window with the low forecast to push slowly east while maintaining strength into tomorrow morning. This should produce an inconsistent but strong pulse of long-period SW groundswell for Monday, building through the day to 3-4ft+ at Middleton by dark with 6ft sets at Waits and Parsons. The Mid should build to an inconsistent 1-2ft through the afternoon/evening.
A secondary more consistent pulse of SW swell is due into Tuesday though, with a favourable but weaker front spawning off the low and pushing up towards the Bight and clipping us Monday.
This swell will have more west in it as well, favouring the Mid with good 2ft+ sets due through Tuesday while the South Coast should ease from a similar size to Monday evening.
Winds are the main issue though with a gusty S/SE breeze due Monday in the wake of the front clipping the state Monday, while Tuesday should see ideal offshore E/SE tending S/SE winds for the Mid.
Wednesday will be better down South as winds swing NE cleaning up an easing swell from 3ft at Middleton and 4-5ft at Waits.
We should see the swell continue to bottom out into the end of the week, while some new swell is on the cards for next weekend but with onshore winds. Check back here on Monday for an update on this though. Have a great weekend!