Fun small weekend, bigger and better next week
South Australian Forecast (issued Friday 24th October)
Best Days: Saturday morning down South, Sunday down SOuth, Tuesday onwards down South, Wednesday morning on the Mid
Recap
Surfing conditions were terrible across the South Coast yesterday with a junky increase in windswell under fresh to strong but easing S'ly winds. The Mid Coast was clean and tiny to 1ft before sea breezes kicked in.
Today a mix of new SW groundswell and S/SE windswell have come in at a cleaner 2-3ft across the Middleton stretch with 3-4ft sets out at Waits under a light offshore wind, but this has now given into afternoon sea breezes. The Mid was tiny and in the 1ft range again.
This weekend (Oct 25 – 26)
Tomorrow is looking a lot better across the Surf Coast with winds now not expected to be fresh from the SE but more light and variable from the S'th but the swell small and best suited to Waits and Parsons.
Middleton is expected to ease from 2ft, with 3ft sets out at Waits and Parsons. The Mid Coast will be tiny but clean.
A small inconsistent long-range SW groundswell is due on Sunday but this will just keep Middleton ticking over at 1-2ft, with 3ft sets at Waits under offshore N/NE winds that will swing W'ly through the mid-late afternoon.
Next Monday onwards (Oct 27 onwards)
The outlook for next week is more than active, with a series of strengthening cold fronts expected to move through our swell window.
The first due to push through Sunday evening will be relatively weak and only kick up junky 2ft+ waves across the Mid on Monday that should hold into Tuesday morning before easing into the afternoon.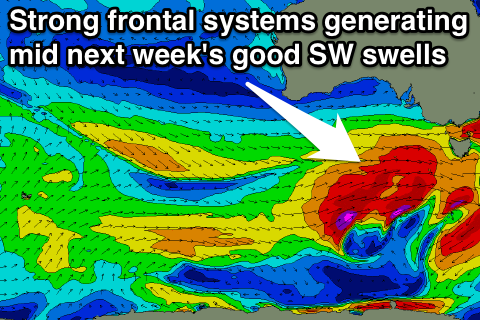 The South Coast isn't due to see much size Monday, building from a small 2ft at Middleton and 3ft at Waits early in the day to 3ft and 4ft respectively during the late afternoon.
Two better SW groundswell pulses are due through Tuesday and Wednesday from a secondary stronger cold front generating a fetch of W/SW and the SW gales through the South Coast's swell window.
The first due Tuesday afternoon should build Middleton further to 3-5ft with 6ft sets at Wait
and Parsons. This swell should hold into Wednesday morning before backing off through the day and further into the end of the week, slowed by a couple of reinforcing SW groundswell pulses.
The Mid Coast won't see any major size and will drop away from Tuesday morning.
Winds will be fresh from the W/NW to W/SW Monday and Tuesday but Wednesday and Thursday look great with straighter and light offshore winds creating good surf across the South Coast. More on this Monday though. Have a great weekend!