Good sized southerly swells until later next week
Bali and Mentawais forecast​​​​​​ by Craig Brokensha (issued Thursday 13th September)
Best Days: Every day over the coming period out of the SE-S/SE winds
This week and next (Sep 14 - 21)
Bali: Good sized swells the last couple of days across the region, and we've still got large waves on offer across the exposed breaks this morning with a variable wind.
The swell is due to ease a little through the day, ahead of a new long-period S/SW groundswell arriving later and peak tomorrow.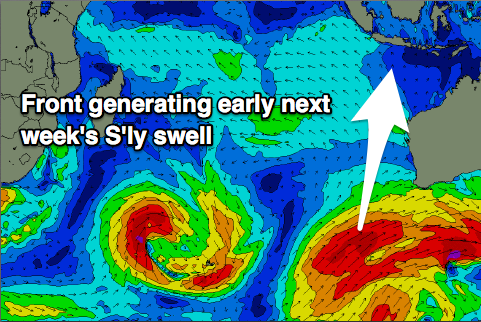 Firstly though it should be said that the models are over-forecasting all these swells as Wave Watch incorrectly combines the new long-period forerunners with the existing size.
But back to the incoming swell, it was generated by a couple of back to back polar frontal systems moving on top of each other and projecting nicely up towards us the last couple of days.
We'll see the swell kicking later today to an easy 6ft+ if not a bit bigger, peaking Friday morning to 8ft on the sets at south swell magnets, and then easing through the afternoon and further Saturday.
We've then got our reinforcing S/SW groundswell energy for later Saturday and Sunday, generated by a good broad and elongated but less than favourably aligned fetch of W'ly gales.
We're looking at a kick back to 6ft+ across exposed breaks ahead of one more final reinforcing S'ly groundswell for Monday morning.
This S'ly swell is being generated by a polar fetch of gale to severe-gale SW winds projecting up on the back of the fetch of zonal W'ly gales, late in our swell window south-west of WA.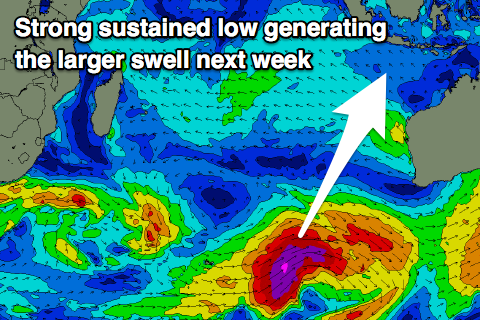 With the south in the direction and shadowing of North West WA, locations east of Bali will be much smaller, and size wise, south swell magnets should see 6ft to possibly 8ft sets Monday morning (smaller on the Bukit reefs) and easing through the day, further Tuesday morning.
After this we've got one more significant and long-period groundswell before the outlook goes quite for the foreseeable future.
This swell isn't showing on the charts as well as it should, with all the mixed back to back swells this week being over-represented, but a vigorous polar low is expected to develop in the Heard Island region this evening, with a fetch of severe-gale to storm-force W-W/SW winds being projected through our swell window through until Sunday morning when the system pushes east under Australia.
A large long-period S/SW groundswell will result, arriving late Tuesday and peaking through Wednesday to a strong 8ft across swell magnets through the afternoon, easing slowly through Thursday and Friday.
Coming back to the expected winds over the coming period and E/SE trades will kick back in from tomorrow but without much strength and remaining weak through the period.
16 day Bali Forecast Graph
16 day East Java Forecast Graph
16 day Sumbawa Forecast Graph
Ments: We should be seeing the larger S/SW groundswell for this week already building across the region and kicking to 6ft+ by dark, with a peak tomorrow morning seeing the odd 8ft set before easing into the afternoon and further Saturday.
Winds will be the main issue, fresh and gusty from the SE-S/SE owing to a strong high pressure ridge sitting to our south-west.
These winds will persist through the weekend and most of next week, possibly weakening later, but we'll review this next Tuesday.
The reinforcing S'ly swell for Sunday again won't offer too much in the way of new size, but should keep exposed south facing breaks coming in at 4-5ft.
Interestingly the acute S'ly swell for Bali is due to spread out radially towards us as it follows the great circle path, filling in Monday and peaking through the afternoon to a better 6ft across the region, if not possibly a touch bigger.
We'll see this swell fade ahead of the long-period S/SW groundswell mid-week.
Size wise 6ft+ sets are due Wednesday morning, easing back thereafter and smaller into the weekend and following week.
16 day Mentawai forecast graph
16 day Nias forecast graph
16 day South Sumatra forecast graph