Good S/SE swell for the weekend, larger swell later next week
Bali and Mentawais forecast​​​​​​ by Craig Brokensha (issued Thursday 30th August)
Best Days: Saturday through Monday and then Thursday onwards
This week and next (Aug 31 – Sep 7)
Bali: The swell has bottomed out into this afternoon, but into tomorrow we've got our large and powerful mix of S/SW groundswells, coming in with a lot of consistency due to how close the secondary larger swell was generated to the region.
A severe low off the Western Australia coast produced a great fetch of S/SW gales over the past few days and we should see this swell building rapidly tomorrow and reaching a consistent 8ft across exposed south facing breaks, if not for the odd larger clean up set late in the day.
The swell is due to ease through Saturday from the 8ft range, smaller and from the 6ft range at magnets early Sunday.
A small inconsistent background S/SW groundswell will slow the easing trend through Monday with infrequent 4-5ft waves expected on the magnets, easing Tuesday and bottoming out next Thursday.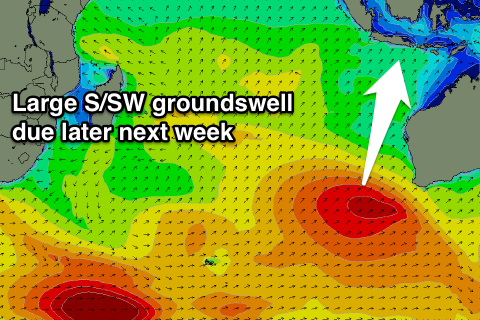 We'll see a bit more SE in the direction of the trades over the coming period, swinging back more to the E/SE through later next week. Along with this, each morning should see variable winds owing to local land breeze effects.
Our next increase in swell flagged for next Friday is still on track, with a strong and slow moving polar frontal progression due to develop around the Heard Island region tomorrow. An initial broad fetch of strong to gale-force W/SW winds will set in motion an active sea state for a stronger fetch of gales to move over, projecting slowly towards Western Australia.
This will produce a large and powerful long-period S/SW groundswell for later next week, arriving overnight Thursday and building rapidly to what looks to be 8-10ft across swell magnets into the afternoon.
Following this there'll be plenty more smaller S/SW groundswells in the mix, with another possible large swell mid-week the 10-14th of September, but more on this Tuesday.
16 day Bali Forecast Graph
16 day East Java Forecast Graph
16 day Sumbawa Forecast Graph
Ments: Similar to Bali, the swell is on the way out across the region, and we look to an inconsistent long-range S/SW groundswell tomorrow, mixed with the S/SE swell from the low off WA later in the day, peaking Saturday.
The background S/SW groundswell should kick wave heights to an inconsistent 4ft through tomorrow, while the S/SE swell should produce better sets to 6ft across exposed south facing breaks.
Winds will improve from tomorrow and come more from the E/SE, variable into the afternoon, similar on Saturday and Sunday before reverting back to the SE on Monday and freshening through the rest of the week.
The S/SE swell will fade through early next week, bottoming out ahead of some distant SW groundswell on Thursday and the larger S'ly groundswell Friday afternoon and Saturday.
The distant SW groundswell has already been generated south of South Africa and should provide a kick in size Thursday to 4-5ft, while Friday's swell will be stronger and reach the 6-8ft range late in the day, easing from a similar size Saturday morning.
We'll have another look at this Tuesday though.
16 day Mentawai forecast graph
16 day Nias forecast graph
16 day South Sumatra forecast graph