Fun swell Thursday, larger from Sunday
Bali and Mentawais forecast​​​​​​ by Craig Brokensha (issued Tuesday 22nd May)
Best Days: Swell magnets Wednesday morning, Thursday, swell magnets Friday and Saturday morning, Sunday onwards
This week and next (May 23 - Jun 1)
Bali: Our run of small to tiny surf will break proper from this weekend, but before that we've got a couple of smaller fun swells from tomorrow and more so Thursday.
A small increase in size Wednesday was generated by a small short-lived front and we should see very inconsistent 3ft to maybe 4ft waves at magnets, small to tiny on the Bukit.
A better pulse for Thursday was generated by a stronger fetch of severe-gale to storm-force W/SW winds in our far swell window, south-east of Madagascar.
We should see infrequent but stronger surf to 5-6ft on the sets across magnets Thursday afternoon, easingback into Friday and Saturday morning.
Now, of much greater significance and discussed last update is a strong node of the Long Wave Trough that has developed across the south-east Indian Ocean.
This is already starting to direct storms towards us, with a strong low forming in the Kerguelen Islands region, directing a fetch of gale to severe-gale S/SW winds towards us before weakening but continuing to generate strong winds right off WA's NW coast.
This will generate a large SW long-period groundswell (mixed with some mid-period energy) for Sunday that may be seen later Saturday, coming in at 6-8ft across exposed breaks into the afternoon.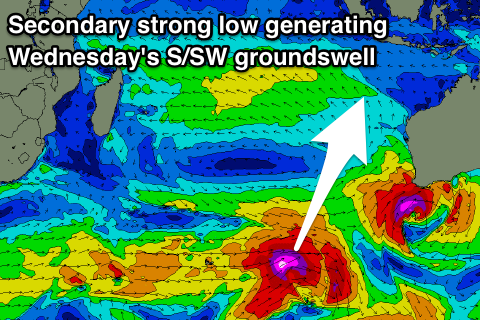 The swell is likely to ease back more to the 6ft+ range on Monday, steadying owing to broad fetches of strong to gale-force SW winds continuing to be aimed towards the region.
We'll see a drop in size Tuesday ahead of a new largepulse of long-period S/SW groundswell later in the day,followed by another pulse Wednesday.
These swells will be generated by a vigorous polar low aiming a fetch of storm-force W/SW winds through our southern swell window, with a secondary low piggy-backing on top generating two back to back long-period groundswells.
The first for Tuesday afternoon should see exposed breaks kicking back to 6ft+ later in the day, with the secondary pulse for Wednesday seeing wave heights pulse to 8ft.
Our models are incorrectly combining the swells on Wednesday and over-forecasting the size.
Moving into Thursday the swell is due to ease, with smaller reinforcing swells slowing the easing trend into the weekend.
Looking at the local winds through the coming period and moderate to fresh E/SE trades are expected (lighter and more variable each morning) and weaker into later next week.
16 day Bali Forecast Graph
16 day East Java Forecast Graph
16 day Sumbawa Forecast Graph
Ments: We finally see some fun swell tomorrow, with the mid-period energy due to reach 3-5ft across the region tomorrow with variable winds, while Thursday's pulse should reveal better 6ft sets at exposed spots.
A downwards trend will then be seen into Friday and Saturday before the swell from the low currently around the Kerguelen Islands fills in Sunday.
This swell will come at us from a pretty south direction, with 6-8ft sets due into Sunday at south magnets,easing from 6ft to maybe 8ft Monday morning with variable winds.
The swells from the intense lows piggy-backing each other will be aimed more to the east than north and not ideal for our region.
We should still see swell though, the first for Tuesday building to 4-5ft by dark, with the secondary swell for Wednesday providing better sets to 6ft through the day, easing from a similar size Thursday morning.
From here it's a slow downwards trend, but we'll review next weeks swells again on Thursday.
16 day Mentawai forecast graph
16 day Nias forecast graph
16 day South Sumatra forecast graph