Good run of swell from tomorrow through mid-next week
Bali and Mentawais forecast​​​​​​ by Craig Brokensha (issued Thursday 10th May)
Best Days: Every day over the coming period until late next week then the swell fades
This week and next week (May 11 - 18)
Bali: Currently we should be seeing a drop in S/SW swell, smaller into tomorrow morning ahead of our new long-period S/SW groundswell into the late afternoon/evening.
This swell performed on forecast in WA, pulsing strongly yesterday with even a few bigger sets in the mix.
We should see exposed swell magnets kicking to an inconsistent 6ft+ by dark, easing from the 6ft range Saturday, smaller into Sunday.
Our new pulses of SW groundswell are then expected from later Sunday but more so Monday, with the largest pulse Wednesday.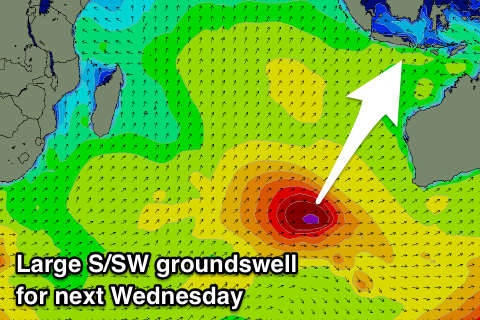 The first and least consistent swell for later Sunday and Monday morning was generated by a strong and broad storm developing south-east of South Africa.
This should provide 4-5ft sets later in the day Sunday across exposed spots, with 4-6ft waves Monday morning.
A secondary fetch of strong to gale-force W/SW winds pushing through the central Indian Ocean will produce a reinforcing pulse to a similar size Monday afternoon, easing back slowly Tuesday.
The third swell is starting to be generated by a good fetch of gale to severe-gale W/SW winds moving slowly towards WA and will generate a slightly bigger S/SW groundswell for Wednesday. Exposed breaks should kick to 6-8ft Wednesday morning, easing slowly later in the day and more so into Thursday and Friday.
Gusty E/SE trades are due through the coming forecast period, light and variable each morning due to local land breezes.
Longer term the Indian Ocean looks to go quiet into next week, with no major surf due until mid the following week (23rd). More on this Tuesday though.
16 day Bali Forecast Graph
16 day East Java Forecast Graph
16 day Sumbawa Forecast Graph
Ments: Similar to Bali, a drop in S/SW energy should be currently occuring today, ahead of tomorrow's new long-period and inconsistent S/SW groundswell.
The swell is due to build through tomorrow and peak through the afternoon to an easy 6ft across south swell magnets.
Saturday will then see the swell easing back from 4-5ft+. Winds should tend more variable into tomorrow afternoon, bottoming out Sunday morning.
The new SW groundswell will arrive a little earlier across our region and be more consistent, reaching 5-6ft later in the day Sunday and then holding Monday around a similar size with the secondary pulse.
The third swell will be better aimed for Bali and later in our south swell window, with it kicking in Wednesday morning, pushing south magnets back to 6ft, it not for the odd sneaker. Winds look to remain variable all next week, with no new swell due until mid the following week, similar to Bali.
16 day Mentawai forecast graph
16 day Nias forecast graph
16 day South Sumatra forecast graph