Slowly easing surf through the end of the week, fun SW swell from Sunday
Bali and Mentawais forecast​​​​​​ by Craig Brokensha (issued Tuesday 19th September)
Best Days: Thursday morning, Sunday afternoon onwards
This week and next (Sep 20 - 29)
Bali: A good S/SW groundswell seen through Sunday and yesterday has eased back into this morning leaving smaller surf, but a reinforcing SW groundswell should pulse this afternoon, generated by a tight intense mid-latitude low last week.
This swell should produce good 5-6ft sets across most exposed breaks into this afternoon before easing back a touch into tomorrow. Wave heights should steady through the day with some reinforcing S/SW groundswell from the remnants of the mid-latitude low forming into a stronger low deep in our south swell window over the weekend.
This swell should keep 4-5ft+ sets hitting the coast, easing back from a similar size Thursday morning, small Friday.
As touched on last update, we've got a bit of activity due from Sunday as a series of mid-latitude storms develop in our southern swell window.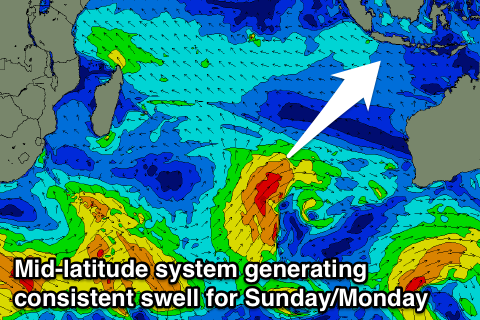 A system that formed west-southwest of WA yesterday isn't too favourably aligned with a small kick through the weekend due to 4ft later Friday, easing from 4ft+ Saturday morning.
A longer lived and better aligned front that's currently pushing north above the Heard Island region will project a fetch of SW tending W/SW gales far north into the Indian Ocean, producing a consistent SW groundswell for Sunday, building towards 6ft+ late in the day and coming in around a similar size Monday morning.
A drop in size is due through Tuesday from the 6ft range, with the longevity of swell owed to the slow moving of the mid-latitude system towards and into Western Australia.
Longer term we may see a polar front project north towards us off the WA coast during the weekend, generating a good S/SW groundswell later in the week, but the models are still a little divergent regarding this system, so check back Thursday for the latest.
Weak E/SE-SE trades are due to continue through the coming days and weekend, picking up a little into next week out of the SE. With this we can still expect variable breezes each morning with local land breeze effects.
16 day Bali Forecast Graph
16 day East Java Forecast Graph
16 day Sumbawa Forecast Graph
Ments: We should be seeing some good SW groundswell breaking across the region today and this swell will ease through tomorrow as winds become more variable.
Into Thursday afternoon a slight bump in background SW groundswell is expected to an infrequent 4ft through the afternoon, easing back from a similar size Friday, bottoming out Saturday.
The consistent groundswell due Sunday/Monday across Bali will come out of the S/SW across our region with good sets building to 6ft late Sunday and holding in the 6ft+ range Monday before easing late, down into Tuesday and Wednesday.
Winds will remain variable into the start of the weekend, tending moderate SE from Sunday and persisting all next week, favouring slightly protected locations.
Longer term we're looking at the S'ly swell due late week, but more on this Thursday.
16 day Mentawai forecast graph
16 day Nias forecast graph
16 day South Sumatra forecast graph