Easing surf, good SW swell for the weekend as average winds persist
Nias, Mentawai, South Sumatra forecast by Craig Brokensha (issued Tuesday 15th September)
Best Days: Protected spots Wednesday and then Saturday onwards
This week and next week (Sep 16 - 24)
A strong S/SW groundswell is breaking across the region but fresh S/SE winds are limiting options to protected breaks which are a lot smaller.
We'll see this swell ease off steadily through today and further tomorrow and Thursday, bottoming out Friday as fresh S/SE winds persist.
Into the weekend a good long-range SW groundswell is due across the region, generated by a vigorous polar frontal progression firing up under South Africa late last week.
There'll be a long wait between sets, but when they come we should see strong and powerful.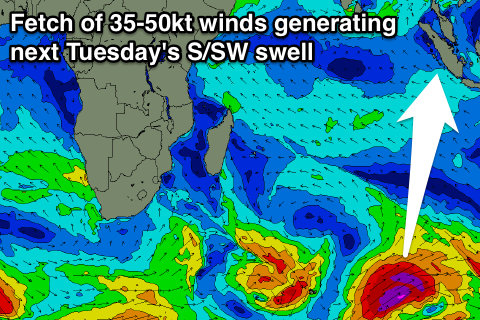 The swell is due to build through Saturday, reaching an infrequent 6ft+ across exposed breaks in the Ments later in the day, peaking early Sunday to 6ft to occasionally 8ft before easing into the afternoon and further into Monday morning.
Fresh and gusty S/SE winds are due to persist limiting options when this swell fills in.
Into next week, a larger S/SW groundswell is expected to arrive late Monday and peak Tuesday, generated by a vigorous polar frontal progression firing up towards South West WA. A fetch of severe-gale to storm-force SW winds will be produced through our southern swell window, producing a good S/SW groundswell pulse for Tuesday.

Exposed spots around the Ments should kick later Monday and peak Tuesday morning in thr 8ft range as winds swing from a weaker S/SE'ly around to the S/SW.
A drop in size is due through Wednesday and Thursday with weaker SE breezes, strengthening again later in the week as the swell bottoms out. We'll review this again on Thursday though.
16 day Mentawai forecast graph
16 day Nias forecast graph
16 day South Sumatra forecast graph