Easing onshore surf, slow until next weekend
Hawaii North Shore, Micronesia and PNG forecast by Craig Brokensha (issued on Thursday 28th February)
This week and next (Mar 1 – 8)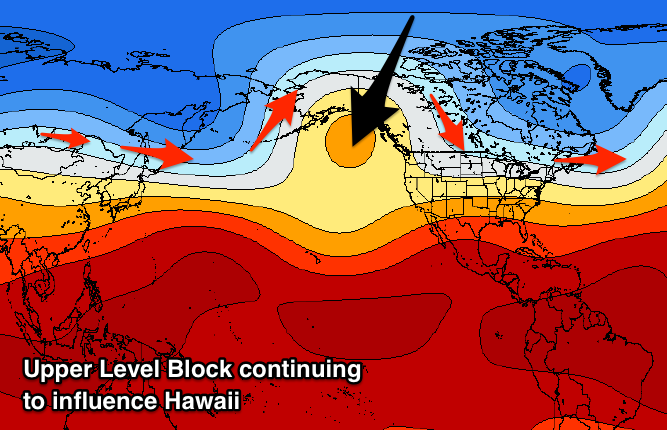 Hawaii: Oversized building surf on the North Shore today but with poor and gusty N/NE winds. The Waimea Buoy is maxing and near a peak of over 12ft at 17 seconds and we'll see this swell easing back steadily tomorrow morning from the 8-10ft range, if not for the odd sneaky bigger cleanup set at dawn.
Winds will remain poor though and gusty out of the N/NE, weaker and moderate to fresh Friday as the swell continues to drop from 4-5ft+ or so.
As touched on last update there's nothing significant at all for the first week of March, with another upper level bocking pattern dominating our swell outlook.
A small pulse of mid-period N/NW swell for the weekend doesn't look to top 3-5ft later Sunday and early Monday along with unfavourable NE trades, small and windswelly most of next week as stronger E/NE trades kick back in.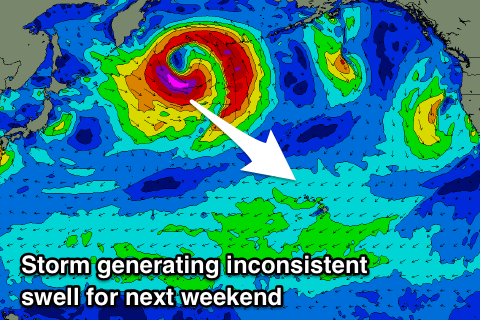 From next weekend we should see a bit more activity with a couple of strong lows spawning off the Kamchatka Peninsula.
The first will aim a burst of gale to severe-gale W/NW winds in our far swell window, producing an inconsistent 6-8ft of NW groundswell for next Sunday morning, with a secondary slightly stronger storm likely to generate a slightly bigger swell Tuesday week. More on this Tuesday though.
North Shore Forecast Graph
North Shore WAMs
Micronesia: Not much in the way of surf expected over the coming period but a small signal of long-period swell that's currently hitting Hawaii should filter in tomorrow and reach a fun 3ft or so on the sets, fading Saturday.
Moderate levels of E/NE trade-swell will persist this period though with no significant size getting into protected north facing reefs, while eastward facing breaks will be poor under fusty E/NE trades.
Palikir Pass Forecast Graph
Palikir Pass WAMs
Papua New Guinea: Favourable winds and fun pulses of E/NE trade-swell will make up the coming forecast period with surf due to ebb and pulse between 3ft to occasionally 4ft from the weekend through next week.
The energy will be most consistent from later next week through the following weekend as the trade-flow between us and Hawaii becomes more robust, though winds may take a slight north-west tendency. More on this Tuesday.