Poor end to the week, better from next Wednesday
Hawaii North Shore, Micronesia and PNG forecast by Craig Brokensha (issued on Thursday 17th January)
This week and next (Jan 17 - 25)
Hawaii: Our large pulse of new reinforcing NW groundswell pulsed into yesterday afternoon, holding into early this morning before easing as morning offshore winds gave into stronger Kona SW winds, creating bumpy conditions.
We'll see these Kona winds strongest tomorrow morning and gusty from the SW as the swell continues to ease. An approaching low will then swing winds NW later in the day, and then N/NE into Friday with our weak N/NW windswell now looking even weaker.
We're only due to see a short burst of strong NE winds in our swell window Thursday, producing maybe 4-5ft waves Friday though with those poor winds.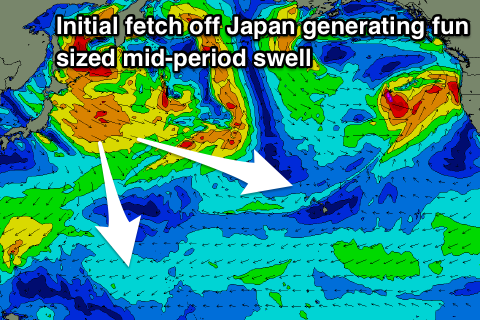 Better E/NE tending ESE trades should be seen Saturday as the swell becomes small and fades.
There's nothing significant until mid-next week when we should see increasing levels of mid-period E/NE swell, followed by a larger NW groundswell on Thursday/Friday.
The mid-period energy will be generated by a broad and slow moving fetch of strong to gale-force W/NW winds off Japan, projecting towards us. The swell is expected to build to 6ft to occasionally 8ft across swell magnets Wednesday afternoon, with Thursday seeing the secondary swell kicking more to 6-8ft+.
A slow drop in size is due through Friday, but the original storm will stall through our north-western swell window through the middle of next week, generating a reinforcing NW swell for Sunday afternoon Monday in the 5-6ft+ range.
Winds through next week will initially be favourable with a light SW tending onshore breeze Wednesday, with average N/NE winds on Thursday. E/NE trades should kick in again from Friday, cleaner into Saturday and Sunday morning. More on this next week.
North Shore Forecast Graph
North Shore WAMs
Micronesia: We've got some new N'ly groundswell in the water with great conditions on those north facing reef passes, though a slow drop in size is expected from 5-6ft tomorrow across north swell magnets, smaller Saturday and then Sunday under fresh to strong E/NE trades.
The fetch off Japan is ideal for swell generating across Micronesia and should produce a good pulse of mid-period energy on Tuesday, building to 4-6ft by dark, then easing temporarily into Wednesday.
A secondary pulse of stronger groundswell is then due Thursday with sets kicking back to 4-6ft, easing slowly into Friday and smaller next weekend. The trades look to weaken later next week as well, but more on this Tuesday.
Palikir Pass Forecast Graph
Palikir Pass WAMs
Papua New Guinea: We should see a fresh pulse of inconsistent N'ly groundswell tomorrow, building to 3-5ft across our swell magnets with a morning variable breeze, holding Saturday before easing Sunday.
Saturday unfortunately looks to see W'ly winds from early, limiting surfing options before more variable winds kick in from next week.
The surf will become smaller into early next week, though a small new N'ly groundswell should be seen Wednesday, building to the 4ft range on the sets, though inconsistent, easing a little Thursday.
The slightly stronger N'ly groundswell is then due Friday but only to 2-3ft or so. There's still no decent E/NE trade-swell due through the period with background sets to 2ft+ or so.