Easing and improving surf, picking up again from Tuesday next week
Hawaii North Shore, Micronesia and PNG forecast by Craig Brokensha (issued on Thursday 20th December)
Best Days: North Shore Thursday then later Monday through next weekend - Micronesia tomorrow, and then Monday through next weekend, PNG every day until late next week
This week and next (Dec 14 - 21)
Hawaii: A new XL N/NW groundswell filled in strongly yesterday afternoon and was still large this morning but on the ease and with average N/NE winds.
Winds should improve a little late and tend more NE, but tomorrow looks the pick with easing sets back from the 8ft range on the regional north swell magnets (smaller at other breaks) under E/NE trades.
Friday will be cleaner again with an E'ly offshore but small fading 3-4ft sets max.
As touched on in Tuesday's update there's nothing significant due across the North Shore until later Monday but more so Tuesday onwards next week.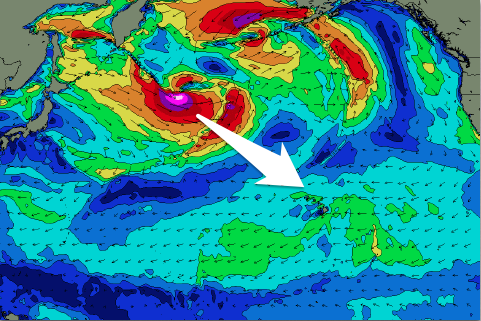 A flurry of broad but relatively weak storms spawning off Japan will generate various pulses of W/NW-NW swell, both mid-period and groundswell.
The first mid-period W/NW swell is due to arrive later Monday and peak Tuesday to 4-5ft+ across swell magnets. A more consistent and slightly bigger NW groundswell is then due on Wednesday, generated by a better fetch of strong to gale-force W/NW winds projecting closer towards us though Sunday and Monday.
The size has been downgraded a little, with a pulse to 6ft+ likely Wednesday (odd 8ft'er at magnets), easing into Thursday.
A much stronger but more distant fetch of severe-gale W/NW winds (with embedded storm-force winds ) will generate a larger long-period NW groundswell for Friday, likely to the 10ft range, easing off slowly through the afternoon and into next weekend.
Winds look generally good with fresh and gusty E'ly trades, weaker into later next weeek.
Longer term a significant storm is expected to form off Japan later next week, likely generating an oversized NW groundswell for the end of this year/start of next year, but more on this next update.
North Shore Forecast Graph
North Shore WAMs
Micronesia: A fun pulse of N'ly groundswell yesterday should now be on the ease across the north facing reef passes, fading further through tomorrow.
We then look towards the pulses of N/NW swell from the activity off and east of Japan. The first swell will be mid-period and only likely provide 3ft+ surf across the north facing reefs into Monday afternoon and Tuesday morning.
The secondary swell for Wednesday is a bit better, building to 3-4ft by dark and peaking Thursday morning to 3-5ft. The strong low will form a little late in our swell window and only keep small 3ft waves hitting the north reef passes into the weekend.
Winds look favourable and persistent out of the E/NE gusty at times through the day.
Palikir Pass Forecast Graph
Palikir Pass WAMs
Papua New Guinea: Similar to Tuesday's update, we've got moderate levels of NE trade-swell due across the region this period, persisting at 3ft+ before easing off slowly through early next week.
The swell will drop back to 2ft to occasionally 3ft on the magnets by Friday week, smaller and to 2ft into next weekend. A small signal of N'ly swell is due later week as this NE trade-swell flows, providing very inconsistent 2-3ft sets.
Winds still look to increase a little out of the W/NW from mid-late next week, limiting surfing options, becoming stronger into the weekend as a tropical depression strengthens in our region.