Easing surf ahead of some good groundswell across all regions from Sunday
Hawaii North Shore, Micronesia and PNG forecast by Craig Brokensha (issued on Thursday 28th December)
Best Days: North Shore Thursday morning, later Sundaty onwards - Micronesia Sunday onwards - PNG every day
This week and next (Dec 29 – Jan 5)
Hawaii: Clean conditions with an OK N'ly swell this morning, but this afternoon conditions are average with a westerly breeze.
We'll see today's N'ly swell persisting around 4-5ft tomorrow with early variable winds, coming up from the N/NE during the day. Friday will then be small and easing as E/NE trades kick back in.
A low point in swell is expected Saturday, but from Sunday we'll see some fun but inconsistent W/NW groundswell filling in across the islands.
This will be a prolonged swell event, originating from a low stalling over Japan, directing strong to gale-force W/NW winds through our western swell window.
The swell will consist mostly of mid-period energy, though the initial pulse will be longer-period, generated by the strongest fetch.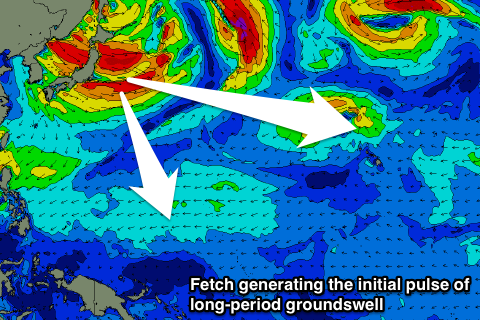 We'll see this swell arrive through Sunday, building slowly towards 4-5ft across the North Shore by dark, with Monday seeing stronger sets to 4-6ft.
Tuesday should see a touch more size and consistency, peaking Wednesday as the swell generating frontal activity nears closer towards us and strengthens a little.
Surf in the 6ft+ range should be seen and E/NE trades should keep conditions relatively clean. We'll see the surf then ease from Thursday as winds swing a little less favourable and around to the N/NE owing to a stronger approaching storm.
This storm looks to be a touch more fruitful, with a great fetch of W/NW gales being projected through our north-western swell window. While only relatively short-lived we should see a good pulse of swell to 6-8ft through Sunday week, but we'll have another look at this Tuesday.
North Shore Forecast Graph
North Shore WAMs
Micronesia: The east-northeast trade-swell is on the ease, but we look ahead to our pulses of N/NW groundswell due from Sunday.
Over the last couple of days a good fetch of W/NW gales were aimed through our northern swell window, directly west of Japan.
This has generated a good long-period N/NW groundswell that should be seen later Saturday ahead of a peak Sunday to 4-6ft.
We've now got a weaker but broad and slightly more south positioned fetch aimed towards us and this should keep the surf up into Monday, easing slowly from 4-5ft+ down to 3-4ft into Tuesday but persisting Wednesday. Winds look great with gusty E/NE trades due to slowly relax all week.
The surf will become smaller into the end of the week ahead of another possible N'ly groundswell for the following weekend, but more on this Tuesday.
Palikir Pass Forecast Graph
Palikir Pass WAMs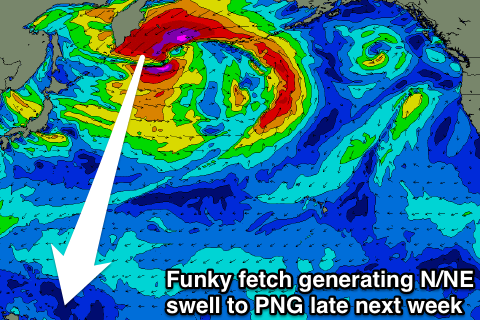 Papua New Guinea: The NE trade-swell is on the ease and we'll continue to see it fading away into the weekend and next week.
We then look at the inconsistent N'ly groundswell energy due from later Sunday. As with Micronesia, the best pulse looks to peak on Monday and coming in at an infrequent 3ft on the sets, easing slowly into Tuesday and Wednesday.
Later in the week some rare N/NE groundswell is being picked up by our models but its source is a little dicey, that being a severe-gale fetch of NE winds off the Kamchatka Peninsula.
I'm a little wary of this swell source, but if the models are correct we could see very inconsistent but fun sized sets Thursday afternoon through Saturday in the 3ft range. Winds look favourable all of next week and variable in the mornings ahead of sea breezes.