Slow across the North Shore, good swell event for Micronesia
Hawaii North Shore, Micronesia and PNG forecast by Craig Brokensha (issued on Tuesday 26th December)
Best Days: North Shore Tuesday morning, Wednesday morning, next week - Micronesia: Sunday onwards - PNG: Every day over the coming period
This week and next (Dec 27 – Jan 5)
Hawaii: A fun pulse of new N/NW swell today but only to the 6ft range on the sets across the North Shore. We'll see this swell easing through tomorrow from 4-5ft+ as winds swing to the S'th. The morning will be cleanest.
Unfortunately the large to XL swell due mid this week across the region has totally changed, with the intense low that was forecast to develop north-northwest of us being much weaker in strength.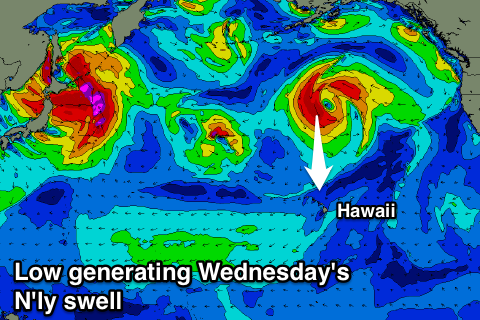 We still saw a fetch of gale to severe-gale N/NW winds temporarily aimed through our northern swell window and this should produce a pulse of swell for Wednesday to 4-6ft across exposed breaks to the north swell with variable morning winds and afternoon sea breezes.
A weaker reinforcing N'ly swell will slow the easing trend through Thursday, keeping sets around 4-5ft but with a fresh and gusty NE wind.
The swell will become small into Friday and fading through the weekend ahead of some new long-range W/NW groundswell building through Sunday, further Monday and easing slowly Tuesday.
This pro-longed and inconsistent swell event will be a result of a stalling low over Japan, aiming a persistent fetch of strong to gale-force W/NW winds in our far swell window.
No major size is expected, with building sets towards 4-6ft due Monday, easing from a similar size Tuesday morning. Winds look favourable though with fresh E-E/NE trades.
North Shore Forecast Graph
North Shore WAMs
Micronesia: Currently we've got E/NE trade-swell persisting across the region along with gusty E'ly winds, but as talked about last update, into the weekend we should see some much better N/NW groundswell filling in.
This swell will be produced by the low sitting off Japan, with an initial fetch of W/NW gales generating the strongest pulse of swell for Sunday, followed by persistent but smaller levels of swell Monday through Wednesday, easing ahead of another possible pulse next Saturday.
But coming back to Sunday's swell and we should see good sets to 4-6ft across exposed reefs to the north, easing slowly Monday but holding around 4-5ft Tuesday before starting to ease Wednesday.
Winds will be favourable and out of the E/NE through the swell event. The swell for the following weekend would be generated by a stronger low projecting further south towards us, but more on this next update.
Palikir Pass Forecast Graph
Palikir Pass WAMs
Papua New Guinea: Our current NE trade-swell is expected to hold over the coming days with sets to 3-4ft with the odd bigger one expected to persist until Friday morning, before easing slowly into the weekend. This will be a result of the E/NE trades east of Micronesia easing over the coming days.
We then look at the inconsistent N'ly groundswell pulses due into the New Year, with the first due to build later Sunday, peaking Monday to an inconsistent 3ft. For the rest of the week we're looking at small inconsistent sets between 2ft to occasionally 3ft with generally variable winds.