Funky swells for the period
Hawaii North Shore, Micronesia and PNG forecast by Craig Brokensha (issued Tuesday 7th November)
Best Days: Northerly swell friendly breaks on the North Shore Friday through Sunday
This week and next (Nov 8 – 17)
Hawaii: Welcome to the first North Pacific forecast of the season.
In the wake of the XL swell seen during the Peahi event, there hasn't been too much action across the North Shore.
We've currently got a fairly benign ocean basin, with a couple of blocking highs positioned south-east of the Kamchatka Peninsula and the Aleutian island chain.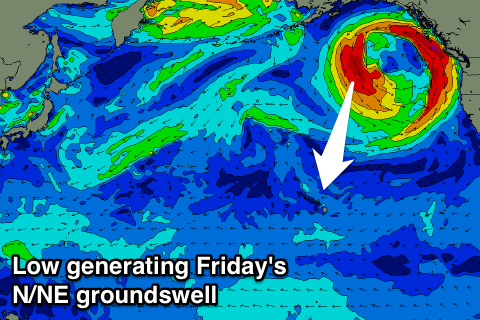 Looking south of Alaska though, and a deepening low is expected to project a good fetch of N'ly gales southward, through our northern swell window over the coming days, generating a large N/NE groundswell for Friday.
Before this swell arrives we'll see a small mix of fading mid-period NW groundswell and small E/NE trade-swell.
The N/NE groundswell will arrive overnight Thursday and peak into Friday afternoon to 6-8ft at northerly friendly breaks, before easing slowly into the weekend, owing to the low deteriorating slowly through the end of the week.
A drop from 6ft on the sets is due Saturday morning, down further from 3-5ft Sunday morning.
Into next week our swell window will remain void of any major groundswell from the north-western quadrant and instead a strong high moving south from the Aleutians along with a tropical depression to our north-east will setup a broad and persistent fetch of strong E/NE winds.
The models still diverge on the strength and longevity of this setup, but we're expected to see moderate amounts of NE trade-swell building through early next week, peaking mid-week with gusty E/NE-NE winds.
Following this we may see similar amounts of N'ly swell, but more on this next update.
North Shore Forecast Graph
North Shore WAMs
Micronesia: Without any storms developing in our northern or north-western swells windows as indicated above, only small amounts of NE trade-swell are expected across the region over the coming days.
A broad fetch of E/NE trades are currently setup to our north-east but these will weaken over the coming days, resulting in 3-4ft waves at exposed breaks tomorrow, easing from a similar size Thursday, further into Friday.
Winds will be average though for these exposed breaks with persistent E'ly trades. North facing breaks will be small to tiny.
The surf will become small to tiny across all breaks into next week, besides Tuesday/Wednesday when a slight kick in N'ly swell is due. This will be produced by a fetch of strong NE winds extending southward towards us through Friday before shifting east on Saturday.
A small N/NE windswell is initially expected, followed by some better N/NE swell Tuesday afternoon. Sets to 3ft+ are likely with E/NE-NE trades, fading Wednesday. Longer term there's nothing major at all.
Palikir Pass Forecast Graph
Palikir Pass WAMs
Papua New Guinea: The weak trades setup north-east of Micronesia will hardly generate any swell at all for our region, with swell magnets open to the north only due to see 3ft sets through tomorrow, easing back to 2-3ft through Thursday and Friday, smaller into the weekend.
Winds look dicey and from the E tomorrow, more variable from Thursday.
Longer term there's nothing major on the cards with the trades to our east-northeast remaining relatively quiet.