Tuesday, 21 March 2017
Easing surf, with an XL swell for Sunday, easing slowly
UNLESS YOU LIVE AT THE BEACH, PLEASE DON'T TRAVEL TO SURF
COVID-19 is changing the way we think about surfing. Travelling to the surf now means you're putting an unnecessary strain on the resources of small regional communities. So, please stay home. If you live near the beach and want to surf, please maintain a healthy spacing in the lineup, don't hang in the carpark, and keep your surf sessions shorter to allow others the opportunity to get wet. Above all, stay happy, healthy and look out for one another.
Hawaii North Shore, Micronesia and PNG forecast by Craig Brokensha (issued Tuesday 11th March)
Best Days: North Shore every day until Friday afternoon, later Saturday onwards for experienced surfers, every day in Micronesia, similar for PNG
This week and next (Mar 22 – 31)
Hawaii: A good pulse of W/NW groundswell today providing great waves at Pipe with E/NE trades.
We'll see this W/NW swell easing off through tomorrow, but a re-intensification of the parent low that generated today's swell, has generated a reinforcing NW pulse for Wednesday.
This looks to be in the 4-5ft+ range, easing back slowly through Thursday and further Friday from 3-4ft.
Conditions will be great with E'ly trades, only moderate to sometimes fresh at times.
Now, moving into the weekend, the swell will bottom out Saturday morning, but later in the day and more so Sunday a new Xl W/NW groundswell is due.
This will be generated by a vigorous low forming off Japan tomorrow, projecting a tight but expanding fetch of severe-gale to storm-force W/NW winds slowly towards us through our western swell window.
The low will then stall to our north-west slightly, helping the longevity of this W/NW groundswell event, while also resulting a swing in direction to the NW as it eases.
A late kick in size is due Saturday to 6ft+, peaking Sunday in the 15ft range at west swell magnets.
Conditions are looking excellent for this swell with moderate to fresh E/NE trades throughout its lifespan, with a slow easing trend Monday, slowed Tuesday with that reinforcing NW pulse around 6-8ft.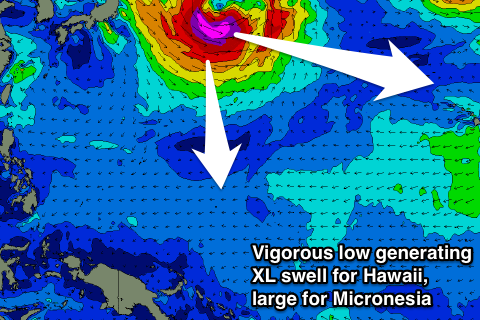 Longer term a large NW groundswell may be seen following weekend, but we'll look at this in the next update.
North Shore Forecast Graph
North Shore WAMs
Micronesia: Our large N/NW groundswell seen over the weekend is on the ease, and will continue to drop through tomorrow.
The reinforcing pulse of N'ly swell for Thursday afternoon (from the re-intensification of the low) is still on track, pulsing back to 3-4ft at north facing breaks into the afternoon before easing again Friday.
Of much greater importance is the vigorous low forming off Japan, with a large, powerful long-period N/NW groundswell due to arrive through Saturday, building to 6-8ft into the late afternoon/evening.
A slow easing trend is then expected from Sunday down from the 6ft range, smaller from 4-5ft Monday and Tuesday.
Winds over this period look good with E/NE trades, fresh to strong from later Saturday onwards.
Also in the mix will be building levels of E/NE trade-swell next week, peaking Monday afternoon/Tuesday but locations seeing this swell will be poor with the E/NE trades.
Palikir Pass Forecast Graph
Palikir Pass WAMs
Papua New Guinea: We've seen some excellent waves across the region the last couple of days with a good N'ly groundswell and favourable winds.
The swell should start easing back through this evening, more so from 3ft on the sets tomorrow morning, smaller Thursday.
A slight reinforcing pulse for Friday should see 2-3ft sets again, but very inconsistent.
The better N'ly groundswell should arrive Sunday and build to 3ft on the sets later in the day, with 4ft waves through Monday and Tuesday morning, easing off slowly from then.
Small levels of E/NE trade-swell will be seen through the middle to end of next week but only to 2-3ft or so. Conditions look great with variable winds for the most part across the region.
Longer term we may see a new N'ly groundswell the following weekend, but more on this Thursday.