Good pro-longed swell event from Sunday across the Pacific
Hawaii North Shore, Micronesia and PNG forecast by Craig Brokensha (issued Thursday 2nd March)
Best Days: North Shore Sunday onwards, Micronesia later Sunday onwards, PNG every day
This week and next (Mar 3 – 10)
Hawaii: The surf is small and fading, and we'll see it become really small to tiny over the coming few days.
Looking ahead to the large W/NW groundswell due Sunday, and the low that's expected to generate it is currently deepening in our western swell window.
This low will still be more favourably aligned for Micronesia rather than us, with the strongest wind speeds being on its western flank. What we'll see through our western swell window, on its southern flank is a gale to severe-gale W/NW winds, moving slowly east towards us.
The system should then weaken and shift more towards us at the same time, increasing the longevity of the swell once it starts easing.
We should see the swell arrive overnight Saturday, peaking Sunday across the North Shore to 8-10ft, easing from a similar size Monday morning, further down through Tuesday from 5-6ft.
Winds are now looking a little better for this swell, with the low weakening once it brushes us Sunday through Tuesday, resulting in variable winds each day ahead of afternoon sea breezes.
The remnants of the low responsible for Sunday/Monday's swell will combine and re-intensify with another front to our north-west next week, with a good stationary fetch of gale to severe-gale NW winds due to be aimed towards us, generating an oversized NW groundswell Wednesday/Thursday.

At this stage we're looking at 10-12ft surf across the North Shore Wednesday afternoon/evening and Thursday morning with E/NE-NE winds, cleaner as it eases Friday.
Beyond this the outlook remains poor with no significant swells at all on the cards.
North Shore Forecast Graph
North Shore WAMs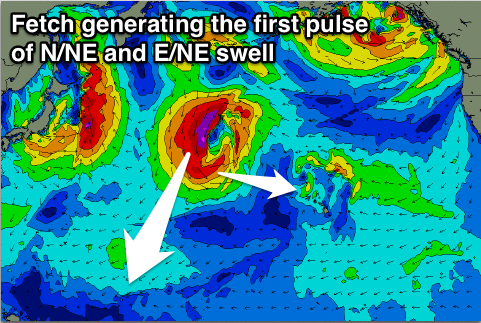 Micronesia: Small to moderate amounts of E/NE trade-swell are due to continue over the coming period at exposed breaks, but these will be unsurfable with gusty E/NE trades.
We turn our eyes towards the N/NE groundswell off the low due through Sunday and early next week.
The low will have two incarnations, the first seeing a tight fetch of severe-gale to near storm-force N/NE winds aimed towards us, generating an initial N/NE groundswell, building Sunday, peaking Monday.
We're looking at a little less size than expected on Tuesday, with the swell due to build to 4-6ft by dark Sunday evening, peaking Monday morning in the 6ft range.
A couple of reinforcing pulses are due through Tuesday/Wednesday morning as the low stalls and continues to aim an elongated fetch of gale to severe-gale N/NW winds through our northern swell window.
This should keep 6ft waves hitting exposed breaks to the north Tuesday and Wednesday morning before easing off through the day, further into the end of the week. Conditions look good as well with fresh and gusty E/NE trades.
Palikir Pass Forecast Graph
Palikir Pass WAMs
Papua New Guinea: Tomorrow our fun NE swell should continue to ease away, bottoming out into the weekend to 2ft with the odd sneaker.
We should see the NE groundswell arriving through Monday increasing slightly ahead of a much more pronounced kick Tuesday to 4-5ft+ into the afternoon/evening. Wednesday looks similar with the reinforcing pulses, easing Thursday through the weekend.
Variable winds are due over the coming period, increasing a touch out of the E/SE with the NE groundswell event early next week.