Large stormy swell developing over the coming days, plenty more to come from the weekend
Hawaii North Shore forecast by Craig Brokensha (issued Tuesday 7th February)
Best Days: North Shore Thursday, Friday morning, later Saturday, Sunday, Wednesday onwards
This week and next (Feb 8 - 17)
Hawaii: Currently we're falling under the influence of broad and multi-centred low pressure system, directing a series of strong fronts across us and towards us.
The strongest of these is currently approaching from the north-west, projecting a fetch of strong to gale-force NW winds in close proximity of the islands.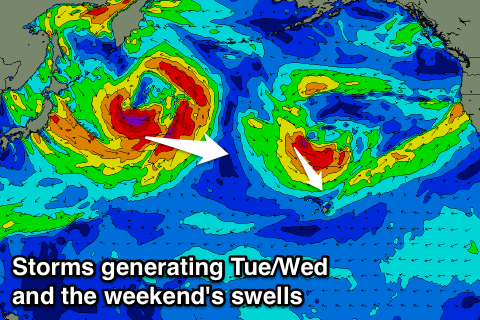 A large raw and stormy NW swell will result, building through tomorrow and reaching 12ft or so into the afternoon, easing back from a similar size Wednesday morning, further down from the 8ft range Thursday morning and smaller Friday.
Winds will remain poor through tomorrow with a fresh W/NW tending N/NW breeze, with Wednesday seeing moderate to fresh N/NE winds, easing through the late afternoon. So a late one might be on the cards.
Weak E/NE trades will kick in again Thursday before a trough clipping the islands brings a gusty S/SW change Friday.
Later in the day Friday a new long-period W/NW groundswell is due to full in, peaking Saturday, easing off slowly from Sunday.

This prolonged nature of the swell will be due to the slow moving and stalling nature of the low generating it offshore from Japan and the Kamchatka Peninsula.
Saturday morning should see inconsistent 6-8ft waves on the North Shore, easing off slowly from a similar size Sunday.
Early Saturday winds are looking poor, but we should see better E/NE trades develop into the afternoon/evening ahead of another gusty SW change later Sunday, persisting early next week linked to another frontal system impacting the islands.
This front will however be associated with a strong and slow moving storm towards us over the weekend, with a couple of fetches of gale to severe-gale W/NW winds being aimed through our swell window.
An XL NW groundswell should result, filling in Tuesday and reaching 15ft+ or so across the North Shore, easing slowly from Wednesday.
As touched on above, winds Tuesday look poor and from the SW, lighter and better from the W/SW Wednesday with more variable breezes Thursday.
Longer term another XL swell is expected next weekend but with what looks to be dicey winds, more on this Thursday.
North Shore Forecast Graph
North Shore WAMs
Micronesia: Yesterday's large pulse of N/NW groundswell is easing slowly across the coast but a reinforcing increase is due through tomorrow, keeping 3-4ft+ sets hitting north facing breaks before easing Thursday.
Into Friday though the strong stalling low off Japan will generate a new moderate sized N/NW groundswell, reaching 4-5ft later in the day and peaking Saturday around 4-6ft before easing slowly Sunday.
Over the coming days weak E'ly trades are due, kicking up again from early next week and holding in the fresh to strong range.
Hawaii's XL swell for Tuesday will also peak in Micronesia on Tuesday with 4-6ft surf due again, persisting at slightly smaller levels Wednesday and Thursday due to a lingering and broad fetch of strong NW winds off Japan.
Beyond this smaller levels of swell are expected from the N'th with some slightly bigger E/NE trade-swell.
Palikir Pass Forecast Graph
Palikir Pass WAMs
Papua New Guinea: The best pulse of N'ly groundswell for today should be offering good but inconsistent 4ft sets across exposed breaks, easing back into tomorrow but steadying with a reinforcing pulse Thursday around 3ft or so.
The surf will then become small into Saturday ahead of a late increase in new N'ly groundswell, peaking Sunday afternoon to 3ft+. A slow drop will be seen Monday and Tuesday ahead of the final swell Thursday to a similar size.
Conditions over the coming days will be a little dicey with weak N/NW pressure gradient, increasing a little Friday through Sunday (early mornings should be OK). These winds look to linger through all off next week before tending variable from next weekend.