Large back to back swells for the North Shore
Hawaii North Shore forecast by Craig Brokensha (issued Thursday 26th January)
Do you want to receive these forecasts to your inbox regularly and go into the chance to win a trip for you and a mate to P-Pass? You've only got one more week to sign-up and enter, so click here.
Best Days: Experienced surfers in Hawaii tomorrow, Friday, experienced surfers Saturday morning, Tuesday onwards, Micronesia and PNG most of the period
This week and next (Jan 19 - 27)
Hawaii: An XL swell peaked this morning across the North Shore and the surf is still overpowering most breaks this afternoon.
We'll see large surf continue into tomorrow morning, easing from the 8-10ft range with offshore E'ly winds.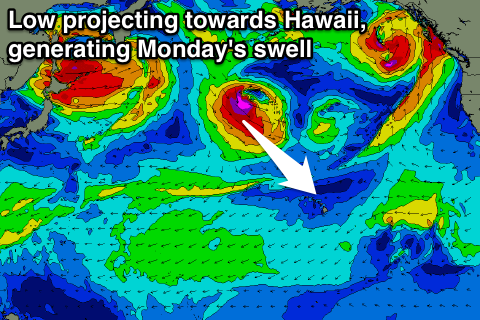 Friday morning will be half the size, and a small increase in mid-period swell is due into the afternoon, back to 5-6ft.
Of greater importance is the two pulses of oversized swell Saturday and Monday.
Saturday's will be mid-period but large energy, generated by a persistent but not overly broad fetch of W/NW gales moving in on the backside of the storm generating today's swell.
We should see the North Shore coming in around 10-12ft, persisting all day and then easing back Sunday.
Morning E/NE trades are expected, tending more N'th into the afternoon. Sunday will then be average with gusty N/NE winds as the low generating Monday's swell pushes down and close to us.
This low will project a fetch of severe-gale to storm-force NW winds in a 'captured fetch' motion towards us, resulting in a consistent XL NW tending N/NW groundswell on Monday.
The swell will likely be seen building later Sunday, peaking Monday to 15ft if not a little bigger.
A steady drop in size is due through the day though due to the quick motion of the low, but we're due to see large levels of N'ly swell persist Tuesday as the systems stalls north of us, aiming an additional fetch of gale to severe-gale N'ly winds towards us.
North friendly breaks are due to persist in the 8ft range if not a little bigger Tuesday, down from 6-8ft Wednesday and smaller into the end of the week.
Winds on Monday will improve slightly but still be average from the NE and with strength, creating raw conditions. E/NE trades should kick back in from Tuesday and Wednesday, with a S'ly change Thursday.
Longer term a large NW groundswell is on the cards for the following weekend, but more on this Tuesday.
North Shore Forecast Graph
North Shore WAMs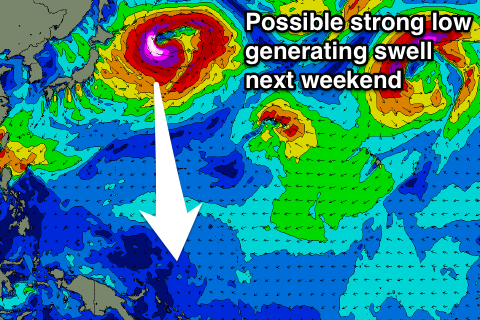 Micronesia: Easing N/NW groundswell has been seen yesterday and further this morning, but tomorrow's pulse is still on track.
A kick back to 4-6ft is due across north facing breaks tomorrow morning, easing off through the day and further Saturday as E/NE trade-swell muscles up.
This trade-swell will become sizey through Saturday afternoon across exposed breaks, easing off just a touch Sunday and slowly through next week.
One final pulse of small N'ly swell is due Saturday afternoon and Sunday morning to 3-4ft, easing through Monday.
Longer term, a vigorous low spawning off Japan could generate a large N/NW groundswell for next weekend, but we'll have a check of this Tuesday.
Winds over the coming days are due to ease out of the E/NE, becoming more variable Wednesday but increasing a little again late week.
Palikir Pass Forecast Graph
Palikir Pass WAMs
Papua New Guinea: More of the same through the coming period with a mix of inconsistent N'ly groundswell in the 3ft range from tomorrow through until about Thursday next week. More consistent amounts of NE trade-swell are also due, 3-4ft+ tomorrow through Monday, kicking a little Monday afternoon and peaking Tuesday morning before slowly tailing off.
Winds are looking variable for the most part, while we'll keep our eyes on the larger N'ly groundswell for next weekend/week.