XL swells light up the Pacific
Hawaii North Shore forecast by Craig Brokensha (issued Thursday 12th January)
Best Days: North Shore Wednesday, experienced surfers Friday through Saturday and mid-next week onwards, Micronesia through the whole period, PNG from Saturday
This week and next (Jan 13 - 20)
Hawaii: A small fun mix of N/NE and NW swells this morning, but into tomorrow a good pulse of larger NW groundswell is due across the North Shore.
This was generated earlier this week and should peak tomorrow morning to 5-6ft+, easing off through the afternoon.
Now, our XL swell due on Friday is still well on track, with the vigorous low forming off Japan projecting south-east towards us while continuing to produce a fetch of severe-gale W/NW winds.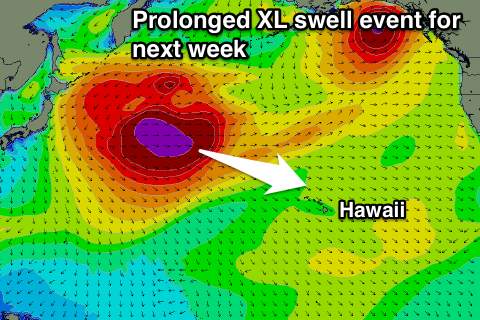 The system has moved in a 'captured fetch' like motion, resulting in a rapid increase in swell, quicker than normal as the storm travelled at a similar speed to the swell is was producing.
The XL swell is due to arrive Friday morning, building rapidly through the day and reaching 12-15ft+ by dark. A peak is due overnight easing back rapidly from 12ft+ or so on the sets Saturday morning, smaller Sunday.
The reinforcing NW swell for Sunday afternoon has been downgraded a little, with a weaker front due to just steady wave heights through the day around 6ft or so, smaller into Monday and Tuesday.
As touched on last update, another large groundswell event from the W/NW is expected mid-next week, as a broad and slow moving fetch of severe-gale W/NW winds form off Honshu, Japan, migrating slowly east before breaking down north-west of us Tuesday.
A prolonged XL swell event is expected, building Wednesday, likely reaching 12-15ft by dark, holding Thursday around that 15ft range on the sets and then easing slowly Friday.
Light winds are expected over the coming days, with E/SE trades kicking back in from Sunday, strengthening Wednesday through Friday next week.
North Shore Forecast Graph
North Shore WAMs
Micronesia: The groundswell impacting Hawaii on Friday afternoon will also fill in Friday across Micronesia, with building surf to an easy 4-5ft by dark, coming in Saturday morning around 4-6ft.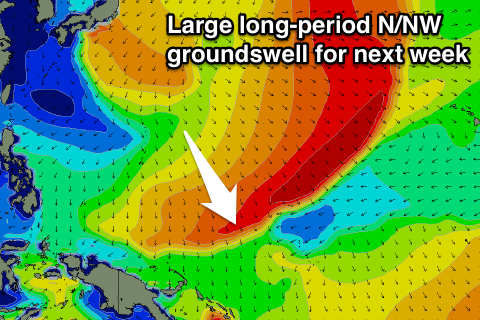 A slow easing trend is then expected into Saturday afternoon, further Sunday but steadying Monday.
Of much greater importance is the broad and slow moving fetch of severe-gale W/NW winds off Honshu. This will be ideally through our northern swell window and as a result a large and powerful N/NW groundswell should result.
The swell is due to arrive later Tuesday, reaching 4ft or so by dark, peaking Wednesday around 8ft on the sets before easing later and further Thursday.
A secondary pulse of moderate sized N/NW groundswell is due through the day Thursday, keeping 4-5ft sets hitting exposed breaks, easing a touch Friday and further into the following weekend.
E/NE trades are due to ease off through the weeend, more variable Monday before strengthening with the large swell mid-week.
Small amounts of E/NE trade-swell are due to build later next week, persisting the rest of the period, with a possible new N/NW groundswell for Tuesday. More on this next update.
Palikir Pass Forecast Graph
Palikir Pass WAMs
Papua New Guinea: Our inconsistent pulse of N'ly groundswell for Saturday is still on track, building to 3ft+ by dark, holding Sunday and then slowly easing Monday.
The larger groundswell due mid-week should show later Wednesday, building to 3-4ft by dark and then peaking Thursday morning around 4-5ft or so on the sets, followed by a secondary reinforcing increase Saturday.
Winds look favourable and variable each morning ahead of sea breezes, while longer term some fun NE swell is on the cards.