Large N/NW groundswells for Hawaii, XL next week
Hawaii North Shore, Micronesia and PNG forecast by Craig Brokensha (issued Tuesday 2nd November)
Best Days: Every day over the coming period Hawaii, exposed east facing breaks around Micronesia and PNG from Saturday through early next week
This week and next week (Nov 3 - 11)
Welcome to the first Hawaiian forecast of the season. Also included are sections regarding Micronesia and Papua New Guinea.
Hawaiian North Shore: After a pumping early season Pipe swell a couple of weeks ago, we've got some similar large swells on the cards for the coming period.
Currently a series of embedded lows are spinning around an anchored low over the Aleutian Islands, generating moderate pulses of long-period N/NW groundswell, mixed in with a larger increase Thursday.
During tomorrow a longer-range NW groundswell is expected to fill in, building to 4-6ft across the North Shore into the afternoon, with a secondary more consistent pulse Wednesday to an easy 6ft.
This will be ahead of the largest increase Thursday, generated by a fetch of gale to severe-gale NW winds projecting south-east towards us, but through our northern swell window.
A large N/NW groundswell will result, peaking Thursday morning to the 10ft range across the North Shore, if not a bit bigger at dawn.
A slow drop in size is due through the day, further Friday, but stopped by a reinforcing N/NW pulse, produced by a secondary smaller but just as intense low.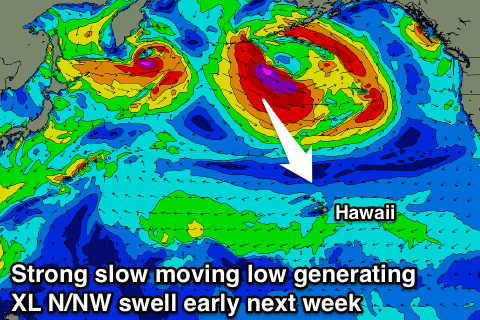 Sets are expected to kick back to the 8ft range through the day, before easing Saturday and further Sunday.
Strong E/NE trades will blow through this period, weakening slightly ito Sunday and next week, but remaining fresh.
Into Tuesday we should see an XL swell impacting the islands, biggest across breaks further to the east.
This will be generated by a vigorous and slow moving low forming south-east of the Kamchatka Peninsula, aiming a fetch of severe-gale W/NW winds towards Hawaii, with core wind speeds likely to reach near storm-force as the system projects slightly east-southeast.
Due to the slow motion of the low, sustained strong winds and slight projection towards Hawaii, an XL swell is expected, with the long-period fore-runners arriving Monday evening, with the bulk of the swell not too far behind, peaking through the day Tuesday to 12-15ft, before easing off rapidly later in the day, further down from 8-10ft Wednesday morning.
Into the end of the week a large reinforcing NW groundswell is expected later Thursday and Friday morning probably to 8-10ft, but more on this next update.
North Shore Forecast Graph
North Shore WAMs
Micronesia: The swells that are due to impact Hawaii over the coming week are forming too far east and late in Micronesia's swell window to generate any N'ly groundswell.
The best swells are generated right off Japan, and anywhere east is out of the swell window.
Instead moderate amounts of E/NE trade-swell are expected from the end of the week, through the weekend before easing back slightly into next week.
This will be due to a broad fetch of stationary trades established between Micronesia and Hawaii, reaching a peak in strength Wednesday before easing but persisting through the weekend and next week.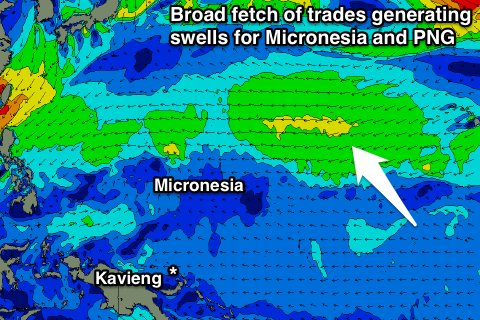 East facing shores should build to 3-5ft Friday, hold around this size through Saturday and then ease slowly from Sunday, but not drop below 3ft. Winds should tend more variable from Saturday creating decent conditions at spots picking up the trade-swell with a slightly stronger S/SW breeze Tuesday next week.
Small levels of W'ly swell may be seen next week as well from a Typhoon forming off the Philippines, but with little to no size.
Longer term there is potential for a large storm to form off Japan later next week, possibly generating a large N'ly groundswell for us, but more on this Thursday.
Palikir Pass Forecast Graph
Palikir Pass WAMs
Papua New Guinea: PNG will receive the same trade-swell as Micronesia but more from the NE and with less size.
An initial small pulse is expected Friday morning only to 2ft+ or so at north-east facing breaks, with the better energy Saturday through Monday to an inconsistent 3ft on the sets, easing back to 2ft+ from Wednesday.
Light variable winds are generally expected, tending onshore through the days.