Very large swells but cleanest as they ease
Hawaii North Shore forecast by Craig Brokensha (issued Tuesday 1st March)
Best Days: Every day over the coming period
This week and next (Mar 2 - 11)
Thursday's XXL swell which saw the Eddie run in some of the best competition conditions in the history of the event eased through Friday and further Saturday ahead of a new large N/NW groundswell Sunday.

This swell eased overnight and has continued to drop through today with less than perfect winds.
From tomorrow we've got back to back oversized NW groundswells, the first tomorrow is due to be XL in size followed by an XXL event on Wednesday.
Tomorrow's first swell has been generated by a broad and elongated fetch of gale to severe-gale NW winds being projected down towards Hawaii from the Kamchatka Peninsula, with the North Shore due to offer 15-18ft sets.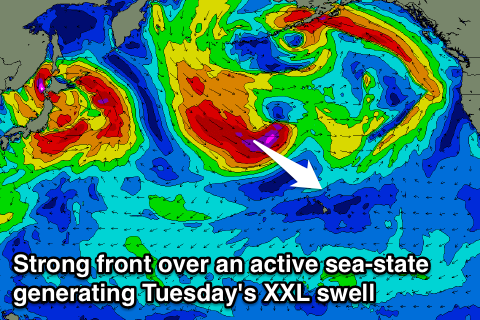 A larger XXL pulse may be seen near dark but more so Wednesday morning generated by an additional fetch of severe-gale to storm-force NW winds projecting down over the top of the already active sea state generated by the first front, amplifying wave heights.
Very large 20-25ft waves should be seen across the North Shore through the morning, with larger bombs at deepwater offshore reefs, easing through the afternoon and further from 15-18ft Thursday morning.
Conditions tomorrow are looking average with the secondary approaching front bringing gusty W/NW tending N'ly winds, with still average but improving N/NE tending E/NE winds Wednesday. Thursday is the pick with lighter morning trades, tending N/NE through the day.
A low point in swell activity is due Saturday morning ahead of a new long-range and inconsistent long-period NW groundswell building through the afternoon.
This swell will start to be generated today by a vigorous low pressure system forming directly off Japan, aiming a fetch of severe-gale to storm-force W/NW winds through Hawaii's far swell window.

The low will weaken before projecting south-east towards the islands during the end of the week.
What will result is an inconsistent long-range NW groundswell building slowly Saturday ahead of a more consistent larger pulse Sunday morning.
Exposed breaks should build to an infrequent but strong 8-10ft later Saturday with a peak Sunday morning to the 15ft range. With the storm staying further away good conditions are expected over the weekend with E/NE trades Saturday and offshore tending variable winds Sunday.
Into next week the swell will continue on an easing trend from Sunday afternoon with only a mid-period swell on the cards for Thursday at this stage. Check back here Thursday for the latest update though.