Thursday, 24 December 2015
Slow end to the week, fun swells Sunday/Monday, large into the New Year
UNLESS YOU LIVE AT THE BEACH, PLEASE DON'T TRAVEL TO SURF
COVID-19 is changing the way we think about surfing. Travelling to the surf now means you're putting an unnecessary strain on the resources of small regional communities. So, please stay home. If you live near the beach and want to surf, please maintain a healthy spacing in the lineup, don't hang in the carpark, and keep your surf sessions shorter to allow others the opportunity to get wet. Above all, stay happy, healthy and look out for one another.
Hawaii North Shore forecast by Craig Brokensha (issued Thursday 24th December)
Best Days: Thursday, Friday morning, Sunday through Tuesday, next Thursday onwards for experienced surfers
This week and next week (Dec 24 – Jan 1)
Easterly trade-swell has been the dominant energy across the islands since the weekend, but a small and inconsistent increase in NW groundswell has offered small 3ft sets across exposed breaks today.
Through tomorrow a slightly better NW groundswell is due with larger sets building to 4-5ft+ expected through the afternoon at swell magnets, dropping from 3-5ft Friday morning with strengthening E/NE trades.
The start of the weekend isn't looking too special with small leftovers, but into later Saturday and more so Sunday morning a good NW groundswell pulse is due ahead of a larger N/NW groundswell Monday.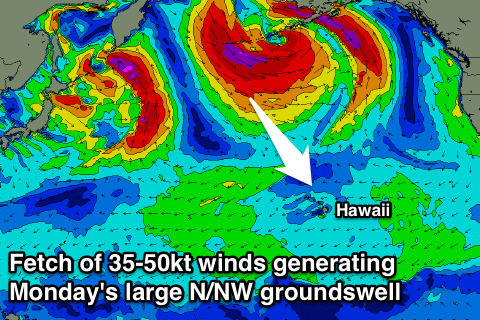 These two swells will be generated by the same system, that being a broad and strengthening low south of the Aleutian Islands, with an initial fetch of strong to gale-force NW winds being projected towards us generating a moderate sized NW groundswell peaking to 6ft+ across the North Shore Sunday morning.
After this initial relatively weak fetch, the low will aim a much more significant fetch of severe-gale to near storm-force NW winds through our northern swell window while slowly tracking east-northeast towards Alaska.
A large long-period N/NW groundswell should result, arriving on dark Sunday and peaking Monday to a strong 8-10ft, easing steadily through the afternoon and further from 4-5ft+ Tuesday morning. Strong E/NE trades through Saturday are due to ease back into Sunday and further early next week (most noticeable from Tuesday).
Longer term we've got some serious activity on the cards for the start of the New Year!
Most forecast models are indicating the development of a broad Aleutian Low early next week, with a series of embedded storms rotating around it, producing a flurry of strong frontal activity projecting down close to the Hawaiian Islands.
Multiple large to XL swells are due from New Years Eve through early in the New Year, but we'll have a closer look at the timings and sizes on Tuesday.