Easing SE groundswell followed by smaller east swells
Eastern Tasmanian Surf Forecast by Craig Brokensha (issued Friday June 17th)
Best Days: Saturday, early Sunday, Tuesday, later Wednesday and Thursday morning
Features of the Forecast (tl;dr)
Moderate sized, easing SE groundswell tomorrow with W/SW tending light S/SE winds
Fading SE swell Sun with a building E/NE windswell
Variable winds early, quickly strengthening from the NE
E/NE swell Mon with strong N/NE winds
Easing mix of weak E swells with N/NW tending W/SW winds
Small mid-period E/NE swell for later Wed, easing Thu with W/NW-N/NW winds
Recap
A strong, large pulse of new SE groundswell yesterday afternoon, with it holding today under light winds, creating great surf for experienced boardriders.
This weekend and next week (Jun 18 - 24)
The current, large SE groundswell is peaking across the state and we'll see it easing slowly over the weekend as winds deteriorate owing to a mid-latitude frontal system pushing in from the west.
Tomorrow is the pick with W/SW tending lighter S/SE winds and easing sets from 4-5ft+ across exposed breaks. Overnight tomorrow the swell will start to ease more noticeably with fading 3ft surf and strengthening NE winds (variable early).
Now, these strengthening E/NE-NE winds will kick up a low quality windswell to 2-3ft later in the day, holding Monday as winds remain strong from the N/NE.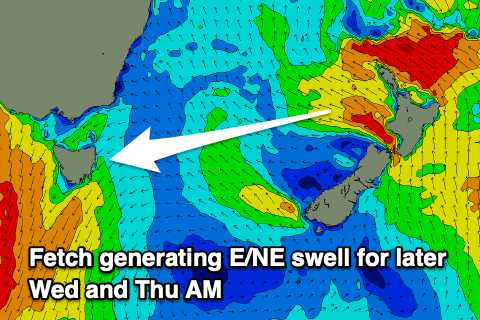 The front is forecast to move through on Tuesday bringing a N/NW tending W/SW change with a mix of easing Ely swells generated by the localised fetch and SE winds off the tip of New Zealand's South Island to 2ft+.
Looking to our north-east, a strong low is due to develop just north of the North Island through early next week but it'll be mostly shadowed by the North Island unfortunately.
A brief burst of strong E/SE winds on Monday, off the west coast of the North Island should produce a small E/NE swell for later Wednesday to 2-3ft, easing from a similar size Thursday.
Winds look great as frontal systems push across us, bring W/NW-N/NW winds but from here on it looks to become quiet for a bit. More on this Monday. Have a great weekend and make the most of the SE groundswell.