Average weekend, better from Wednesday next week
Eastern Tasmania Forecast by Craig Brokensha (issued Friday 22nd August)
Best Days: Monday morning for desperate surfers, Wednesday afternoon onwards
Recap
Our solid E/NE swell seen earlier in the week continued to ease through through yesterday from 2-3ft, but today the swell was still amazingly hanging in at 2-3ft. A drop should have been seen this afternoon with NE winds moving in
This weekend and next week (Aug 23 - 29)
Small and weak levels of NE windswell are due to dominate the weekend as a broad high sits to our east and a weakening front/trough moving in from the west squeezes its western flank.
A weak fetch of NE winds will be aimed towards us, generating a small NE windswell for tomorrow afternoon to 1-2ft across north-east facing beaches and more so Sunday to 2ft+.
Conditions will be average though with fresh winds from the N'th.
The trough is expected to move east and across us Monday, swinging winds offshore but also resulting in a drop in NE swell from 2ft max at north-east swell magnets.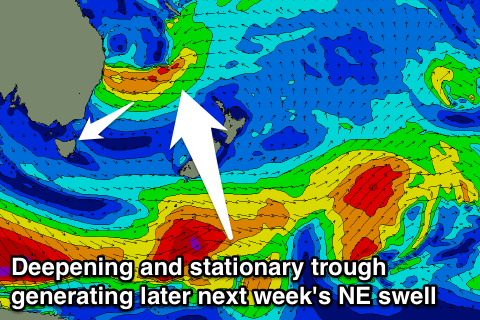 The outlook from the middle of next week becomes much more interesting through as a deepening surface trough off the QLD coast drifts south down the NSW Coast, squeezing the northern flank of the strong high to our east.
This will result in a strengthening and stationary fetch of E'ly winds developing off the NSW Coast just within our north-east swell window, with moderate levels of NE swell expected to spread out down towards us.
At this stage we should see the swell starting to fill in from Wednesday, building into the afternoon and further Thursday ahead of a peak through Friday and Saturday.
There's still a lot of movement around the positioning of this easterly dip and its intensity but we're likely to see at least 3-5ft of swell from the NE at its peak. Check back here on Monday for an update on this though. Have a great weekend!