Easing surf ahead of a fun sized S/SW swell next week
Bali and Mentawais forecast​​​​​​ by Craig Brokensha (issued Thursday 1st November)
Best Days: Swell magnets tomorrow and then Monday through Friday next week
This week through next week (Nov 2 - 9)
Bali: Welcome to the last Indonesian swell forecast for the season.
A new SW groundswell that was expected to fill in yesterday afternoon and provide 4-6ft waves across the regional swell magnets is on the ease today and we'll see it continuing to drop through the weekend of our good new S/SW groundswell early next week.
This has been generated the past couple of days and is still being generated today by a strong polar front that's projected up from the Heard Island region towards WA.
A moderate to large S/SW groundswell should be produced, with it arriving late in the day Sunday and peaking through Monday to 6ft+ across south swell magnets, easing off slowly from 5-6ft or so Tuesday morning.
Our secondary more southerly and longer-period S'ly groundswell for later in the week is also still on track, but the models are incorrectly combining the existing energy with the new swell and over-forecasting the size.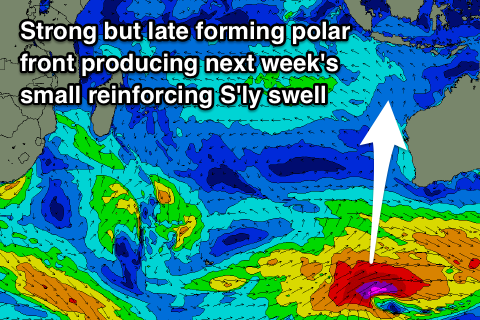 We'll see a late fetch of severe-gale W/SW winds generated south-southwest of WA, on the edge of our southern swell window.
Due to this locations east of Bali will be smaller compared to similar swells from a more SW direction.
We should see the swell arriving through Wednesday evening and filling in Thursday, peaking around 4-5ft across south swell magnets, with some reinforcing mid-period energy to a similar size slowing the easing trend from Friday. With this swell direction the protected Bukit reefs will be small to tiny
Beyond this there's nothing major on the cards. Coming back to the expected winds and we're looking at fairly persistent but weak SE trades, light and variable each morning.
16 day Bali Forecast Graph
16 day East Java Forecast Graph
16 day Sumbawa Forecast Graph
Ments: We should be seeing fun waves across the region today, but an easing trend will be seen this afternoon and further into the weekend ahead of the S'ly groundswell Monday afternoon and Tuesday.
Winds look great for exposed breaks tomorrow morning and E/SE, S'ly into the afternoon and then a more variable E/NE breeze is expected on Saturday, Sunday and Monday mornings before tending back to the SE next Tuesday morning.
Coming back to the S'ly swell and it's only due to come in around the 4ft range on the sets across south magnets later Monday and Tuesday morning, easing back into the end of the week, with the secondary S'ly pulse not impacting us at all.
16 day Mentawai forecast graph
16 day Nias forecast graph
16 day South Sumatra forecast graph