Tuesday, 31 July 2018
Large surf continues until next week
Bali and Mentawais forecast​​​​​​ by Craig Brokensha (issued Tuesday 31st July)
Best Days:
This week and next (Aug 1 - 10)
Bali: Another XL increase in long-period SW groundswell through Sunday afternoon ahead of a peak early Monday, with the size coming in a touch under the swell seen last week. Some spots saw similar sized sets though with the extra touch of west in the direction.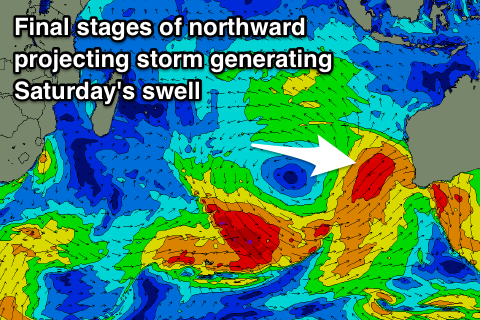 We're now seeing the surf ease across the region, though still large this morning.
The easing trend won't last long with a new SW groundswell due to arrive tomorrow and build through the afternoon, reaching 6ft to possibly 8ft on the sets across swell magnets on dark, easing from 6ft+ Thursday morning.
This swell was generated by a mid-latitude low that developed south-east of South Africa, projecting east over the weekend while generating a fetch of W/SW gales.
The swell should ease back further into Friday while tending more S/SW in direction though likely not dropping below 6ft on the sets.
A new S/SW groundswell due over the weekend has been upgraded in size and strength, with a vigorous polar storm that formed in the Heard Island region currently projecting north-east towards Western Australia. This storm will then project right up across WA's North West under the influence of the Long Wave Trough, producing a large consistent S/SW groundswell for us on Saturday.
We're looking at 10ft+ sets across exposed south facing breaks on Saturday, under the current model forecasts as they are incorrectly combining the existing mid-period energy from Friday and the new swell Saturday.
A drop in size is due into Sunday before a new more acute S/SW groundswell fills in Monday, peaking later in the day.
This swell will be generated on the backside of the storm generating Saturday's swell, with a strong low due to generate a pre-frontal fetch of severe-gale W/NW winds, setting up an active sea state for a trailing fetch of severe-gale to storm-force W/SW winds to move over.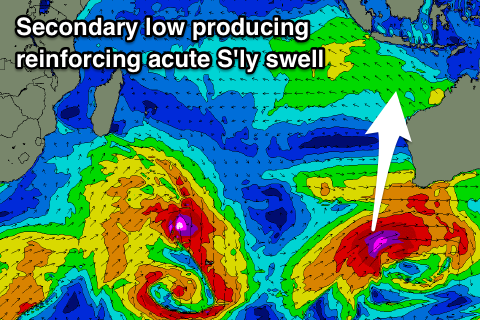 A long-period S/SW groundswell will be produced, with the models incorrectly combining swells on Monday. What we can expect is the swell to build through the day, becoming largest later in the day with sets building back to the 8ft range across south magnets. With the extra south in the swell, locations east of Bali will see more size loss compared to the last few swells.
After this swell, it looks like the Indian Ocean will finally quieten down resulting in smaller swells from the middle of the week.
Looking at the local winds over the coming period and we're due to see the trades swing more S/SE and come in moderate to fresh over the next few days as a strong high edges into the region. We should then see winds swing back to the SE on the weekend and E/SE through next week. Early each morning periods of variable winds are expected due to local land breeze effects kicking in.
16 day Bali Forecast Graph
16 day East Java Forecast Graph
16 day Sumbawa Forecast Graph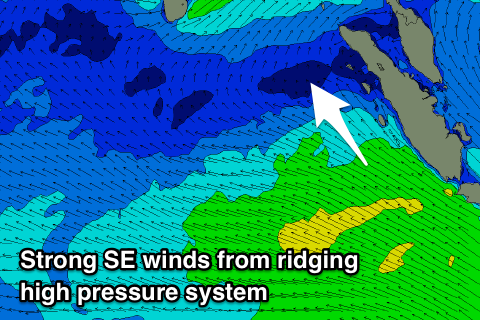 Ments: Another XL pulse of long-period groundswell is now easing across the region and we'll see this easing trend arrested through tomorrow with the arrival of the S/SW swell off the mid-latitude low. This swell was generated a little late in our swell window, so we're just expecting sets to hang in at 6ft across exposed south facing breaks Wednesday and early Thursday before easing into the end of the week.
A strong high moving in under the archipelago later this week will bring strengthening SE-S/SE winds from Thursday (moderate to fresh tomorrow), persisting right through until early-mid next week when we should see winds start to relax.
With this a moderate sized mid-period S/SE swell is due to be generated for Friday through Monday, likely affecting the new acute S/SW groundswell due into Saturday. The groundswell should kick exposed spots up to 6-8ft+, easing back slowly through Sunday and more so Monday.
The reinforcing S'ly groundswell for later Monday and more so Tuesday will be generated just on the edge of our swell window, and provide a small inconsistent pulse of swell to 3-5ft at south facing spots, which will be onshore, easing through the day.
Longer term some fun SW swell is on the cards for later next week, but more on this Thursday.
16 day Mentawai forecast graph
16 day Nias forecast graph
16 day South Sumatra forecast graph