Tuesday, 17 July 2018
XL groundswells inbound
Bali and Mentawais forecast​​​​​​ by Craig Brokensha (issued Tuesday 17th July)
Best Days: Wednesday, experienced surfers only Thursday through Saturday, and then again from Tuesday next week
This week and next (Jul 18 - 27)
Bali: Sunday's large long-period SW groundswell eased back into yesterday, dropping further into this morning.
Into this afternoon though a new inconsistent and long-period S/SW groundswell is due, generated just west of and around Heard Island last week by a strong polar low.
We should see sets push back up to an easy 6ft at magnets later today, though inconsistent and peak tomorrow morning to 6-8ft.
The swell should hold most of the day with some new long-period forerunners linked to Thursday's XL S/SW groundswell arriving later.
These long-period forerunners won't have any real size to them until later in the day, when we may see the swell spike just over that 6-8ft range on dark, but this is hard to say. In any case be cautious when surfing later Wednesday.
Come Thursday though we'll see the bulk of the groundswell fill in, produced by a vigorous Southern Ocean frontal progression that develop late last week and projected towards WA over the weekend and yesterday.
We saw a fetch of storm-force W/SW-SW winds pushing on top a very large and active open ocean sea state while projecting north-east towards the south coast of Western Australia, through our southern swell window.
The swell is currently impacting the West Australian coast with the Cape Naturaliste wave buoy hitting 6m at around 18s.
We'll see the swell peaking through Thursday across our region though, not as big as the model forecasts have it, as they are incorrectly combining Wednesday's existing groundswell with the new energy.
What we can expect though is very large and dangerous 12ft+ sets across exposed south facing breaks through the day, large on the Bukit reefs.
The swell is likely to start easing later in the day but more so Friday from the 10ft range at magnets, while a reinforcing but more southerly pulse of long-period S/SW groundswell will slow this easing trend into Saturday.
This final pulse of large swell is being generated by a severe low firing up on the tail of the vigorous frontal progression, generating a short-lived but very intense fetch of severe-gale to storm-force south-west of WA on the edge of our swell window.
Exposed south facing breaks should persist 8ft+, easing into the afternoon and down more noticeably from 4-6ft Sunday morning.
Looking at the expected winds over the coming period and moderate to fresh E/SE trades will persist until the weekend, backing off before strengthening again into next week. Early each morning we should see light and variable breezes, persisting longer Friday through Sunday with the weakening trade-flow.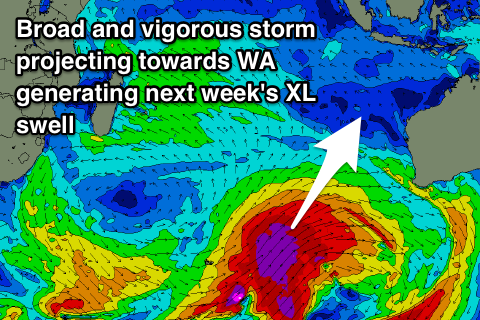 As touched on last update, moving into next week, we're set to see more XL pulses of groundswell across our region owing to another strong node of the Long Wave Trough developing across the southern Indian Ocean and pushing slowly east over WA before stalling.
This will project a flurry of back to back polar storms high into the Indian Ocean, generating oversized consistent surf through all of next week and the following weekend.
At this stage an initial mid-latitude storm that's formed south-east of Madagascar will project a fetch of gales through our south-western swell window over the coming days, producing a smallish and inconsistent SW groundswell for Monday to 6ft at magnets through the afternoon.
On the back of this low a broad fetch of strong to gale-force S/SW winds should generate some reinforcing S/SW groundswell for Tuesday morning, but of greater importance, create an active sea state for a much more significant polar front to move over.
We're looking at a broad fetch of severe-gale SW winds pushing north through our southern swell window and then across Western Australia, producing an XL consistent S/SW groundswell for Tuesday.
Exposed breaks look to reach 12ft+ again, if not maybe a touch bigger later in the day, easing from the 12ft range Wednesday morning.
An additional similar strength fetch but not as far north protruding front will produce a slightly smaller reinforcing S/SW groundswell Thursday/Friday, but more on this next update.
16 day Bali Forecast Graph
16 day East Java Forecast Graph
16 day Sumbawa Forecast Graph
Ments: After easing through yesterday and early this morning, some new inconsistent long-period S/SW energy should be seen later today across the islands, offering inconsistent 6ft+ sets on dark today, if not more so early tomorrow before easing into the afternoon.
Later in the day tomorrow the long-period forerunners linked to Thursday's swell should be seen, but likely under the size of the existing swell.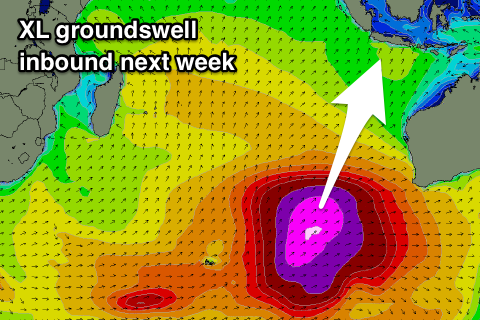 Thursday however will see things become serious as the over-sized S/SW groundswell builds to 10ft+ across exposed south facing breaks into the afternoon.
A slowish drop in size should be seen Friday from 8-10ft at swell magnets, while the reinforcing S'ly swell for Saturday was generated super late in our swell window and won't impact us as much as Bali.
Expect the surf to continue easing back from the 6ft range.
Now, looking at the local winds, and out current gusty S/SE-SE flow will persist tomorrow, though with a touch less strength, similar Thursday.
More variable breezes should develop into Friday from a morning E/SE flow, remaining so on Saturday before those S/SE-SE winds kick in Sunday. We'll hopefully see more variable breezes develop again into Monday afternoon through the middle of next week, but we'll confirm this Thursday.
The new SW groundswell from the low off Madagascar is expected to kick later Sunday across the Ments, reaching 6ft on the sets by dark, peaking Monday with a touch more size.
We'll then see the XXL S/SW groundswell fill in through Tuesday, kicking to a very large 10-12ft through the day across exposed breaks by dark, easing from a similar size on Wednesday morning. The secondary pulse looks a bit more south and a touch smaller, but we'll go over this again next update.
16 day Mentawai forecast graph
16 day Nias forecast graph
16 day South Sumatra forecast graph