Easing surf ahead of a new S'ly swell Monday and inconsistent SW groundswell late week
Bali and Mentawais forecast​​​​​​ by Craig Brokensha (issued Thursday 24th August)
Best Days:
This week and next (Aug 25 - Sep 1)
Bali: Yesterday a strong but inconsistent S/SW groundswell should of built across the region, with solid 6ft to occasionally 8ft waves left across exposed breaks this morning.
This swell should be on the drop and will continue to ease through tomorrow, bottoming out over the weekend. Exposed breaks should still see 4-5ft sets, though infrequent.
Our next decent increase in swell is due Monday, generated by a strong but late forming polar front in our southern swell window, south-west of WA.
Currently a fetch of broad gale to severe-gale W/SW winds are being generated on the edge of our southern swell window, with the swell due to arrive through Monday and peak into the afternoon.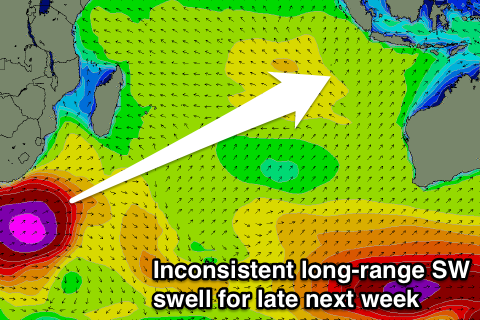 An initial pulse of groundswell for the morning looks to be a touch smaller and in the 4-5ft range, while the afternoon is expected to see 6ft sets across exposed south facing breaks, grading smaller across locations east of Bali.
The swell should ease through Tuesday from 4-5ft or so, smaller onto Wednesday, bottoming out Thursday morning.
Longer term a very long-period but inconsistent SW groundswell is due on Friday.
This swell has been generated south of South Africa by a vigorous and prolonged storm, but its due to weaken today before making it past Madagascar. With this there'll be a lot of swell decay resulting in only moderate to large but powerful surf at its peak.
The forerunners are due to arrive Wednesday in the 22s range but with no size.
We'll see a slow increase through Thursday with exposed breaks likely to build to a very inconsistent 5ft into the afternoon, if not a touch bigger near dark, with a peak Friday to the 6ft range on the sets. The swell should then ease into Saturday, further Sunday.
Looking at the winds over the coming period and E/SE trades are due right until late next week (variable each morning with local land breezes).
16 day Bali Forecast Graph
16 day East Java Forecast Graph
16 day Sumbawa Forecast Graph
Ments: An inconsistent S/SW groundswell is breaking across the region this morning, with it building through yesterday. Exposed breaks should have been in the 4-5ft range this morning, with a drop in size due through tomorrow, bottoming out Saturday.
A small mix of S/SE trade-swell and background S/SW groundswell will keep exposed beaches active through Sunday, Monday and Tuesday, with the groundswell generated south-west of WA being too late in the Ments swell window.
The southern extents of the island chain will likely see sets Tuesday when the swell peaks, but only to 3-5ft or so.
The SW groundswell due late week will provide a bit more size across the Mentawais, with it being a touch closer than Bali. We should see the surf building Wednesday, reaching 3-5ft by dark, building further to 6ft+ by Thursday afternoon, easing from the 6ft range Friday morning.
Winds over the coming period will remain less than ideal and from the SE tomorrow through Monday before tending more variable Tuesday and Wednesday, increasing a touch from the SE again mid-late next week.
16 day Mentawai forecast graph
16 day Nias forecast graph
16 day South Sumatra forecast graph