Great swells to come, large at times
Bali and Mentawais forecast​​​​​​ by Craig Brokensha (issued Tuesday 18th July)
Best Days: Every day this period in Bali and the Mentawais (besides Monday)
This week and next (Jul 14 - 14)
Bali: Large pumping waves over the weekend, with a peak in good consistent S/SW groundswell Saturday, easing back slowly Sunday and further into yesterday.
During today we should see a new inconsistent long-period SW groundswell building, developed by an intense mid-latitude low that developed south-east of Madagascar last week and traversed east through the southern Indian Ocean.
The strength and longevity of this low was a bit better than expected on Thursday and as a result we should see good sets building to 6ft by dark today, peaking tomorrow morning around 6ft to occasionally 8ft before easing into the afternoon, further Thursday.
The larger SW groundswell due into the end of the week is still on track, with a vigorous and broader polar front (compared to the low generating tomorrow's swell) generating a fetch of severe-gale to storm-force W/SW winds through our swell window over the weekend and yesterday.
A large long-period SW groundswell will build through Friday, reaching the 10ft on the sets later in the day at exposed breaks, easing off through Saturday.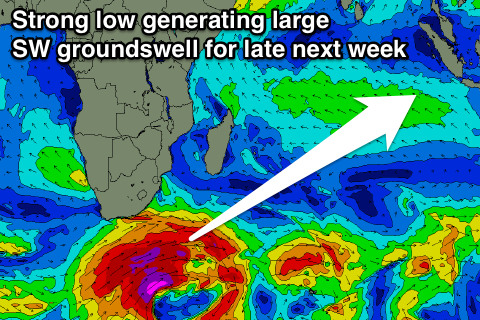 We'll actually see a large reinforcing S/SW swell in the mix Saturday morning, generated by the remnants of the polar front, forming into an intense mid-latitude low off the WA coast today. A fetch of severe-gale to storm-force S/SW winds will be projected towards us, with 8ft+ of S/SW groundswell for Saturday morning, easing back through Sunday and Monday.
Moderate to fresh E/SE trades are expected over the coming days (variable each morning) with a slight strengthening from later Saturday through early to mid-next week.
Into Monday some inconsistent background swell energy is due, while from later Tuesday we've got distant but good SW groundswells on the cards.
These swells will be generated by the same storms firing up under South Africa, producing firing waves for the final days of the J-Bay Open, with the best pulse due late week.
At this stage we're looking at large inconsistent SW groundswell energy, but more on this in the next update.
16 day Bali Forecast Graph
16 day East Java Forecast Graph
16 day Sumbawa Forecast Graph
Ments: Today we should be seeing a good SW groundswell breaking across the region to 6ft+ at exposed breaks, easing back into tomorrow morning. Unfortunately fresh SE winds are limiting surfing options a little, but luckily the swell has a bit of west in it.
The swell due later in the week looks great with weaker E/SE winds and large building sets to 6-8ft Thursday afternoon, holding Friday and then easing Saturday.
The intense low forming off WA will generate an inconsistent S/SE groundswell for Saturday though, keeping wave heights up in the 6ft range most of the day at south facing breaks, easing slowly through Sunday.
A low point in swell is due Monday, but from Tuesday we'll see the SW groundswell energy from under South Africa starting to fill in.
An initial pulse to the 6ft+ range is due on Tuesday, while later in the week we're looking at large 10ft surf, but more on this next update.
16 day Mentawai forecast graph
16 day Nias forecast graph
16 day South Sumatra forecast graph