Tuesday, 20 September 2016
Moderate groundswell pulses for Bali, smaller in the Ments with poor winds
Bali and Mentawais forecast​​​​​​ by Craig Brokensha (issued Tuesday 20th September)
Best Days: Bali tomorrow afternoon, Thursday, Friday, Sunday onwards, Ments protected spots Thursday and Friday, and then from Sunday onwards
This week and next (Sep 21 - 30)
Bali: A large increase in swell was seen yesterday, with a drop experienced through today. This will continue into tomorrow morning, but into the afternoon, a new increase in S/SW groundswell followed by a slightly larger increase Thursday.
These swells were generated a a vigorous polar low and then front pushing up into WA over the weekend and yesterday.

Wednesday afternoon's increase should kick to at least 6ft across exposed breaks into the afternoon, with the secondary pulse coming in Thursday to 6-8ft for the most part.
A steady drop in size is then expected from the 6ft range Friday morning, smaller into Saturday.
Moderate to fresh E/SE trades are due over this period, with local land breezes early each morning.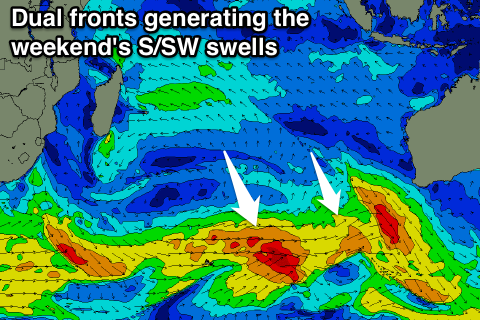 Into the weekend two pulses of swell are expected, the first for later Saturday, followed by a better increase Sunday afternoon.
These swells are being generated by two back to back mid-latitude fronts pushing towards WA, but the second is much stronger better.
Later Saturday's might pulse to 3-4ft+, with Sunday's increasing to 6ft+ through the afternoon at exposed breaks, holding into early Monday before easing into the afternoon and Tuesday.
Slightly smaller and less consistent S/SW swells are then due for the rest of the week from polar lows firing up in our swell window. Longer term we may see some larger S/SW groundswell for Monday the 3rd of October, but more on this Thursday.
Coming back to the winds for next week, and from Sunday weaker trades are expected, offering longer periods of favourable conditions at exposed spots each morning.
16 day Bali Forecast Graph
16 day East Java Forecast Graph
16 day Sumbawa Forecast Graph
Ments: A kick in S/SW swell should have been seen yesterday and this has eased into this morning, with a further drop due into tomorrow morning.
The new pulses due into Wednesday afternoon and more so Thursday/Friday were generated late in our swell window and will be smaller than what's expected across Bali.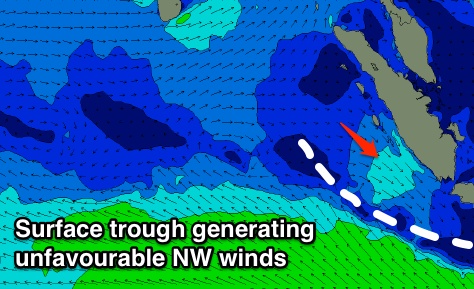 A slight kick is due later Wednesday to 3-4ft+, with Thursday's swell due to increase to 4-5ft+, easing from a similar size Friday morning. Saturday will then become small as the swell fades.
Unfortunately from tomorrow fresh NW winds are due to kick in as a small surface depression forms off the islands and persists through early next week, weakening mid-week before increasing again for the weekend. From the week kicking off October 3rd, we'll hopefully see winds tending more variable.
The new swells for the weekend are again S'th and not as big as Bali, with a kick to 5-6ft due Sunday afternoon, easing back Monday and further into the rest of the week. Longer term our eyes are on the swell due the start of October with moderate to large sized surf due, but more on this Thursday.
16 day Mentawai forecast graph
16 day Nias forecast graph
16 day South Sumatra forecast graph