Tuesday, 11 August 2015
Moderate southerly swell pulses
Java, Bali, Lombok, Sumbawa forecast by Craig Brokensha (issued Tuesday 11th August)
Best Days: Every day over the coming period
This week and next week (Aug 12 - 21)
After a very slow weekend, a good S/SW groundswell is currently filling in across the region with it due to peak this afternoon to a good 6-8ft across exposed breaks. This swell should ease back from a less consistent 6ft to occasionally 8ft at dawn across exposed breaks tomorrow, down further through the day ahead of a reinforcing S/SW groundswell Thursday keeping 6ft sets hitting exposed breaks before easing back into Friday morning.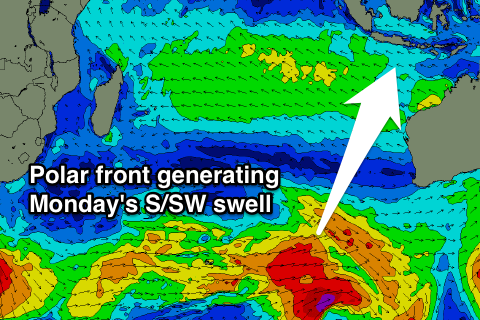 Another inconsistent S/SW groundswell is due Friday afternoon, generated by a continues polar frontal activity to the south-west of WA the last few days.
The swell should be similar in size to Thursday's with infrequent 6ft sets across exposed breaks due, dropping back slowly through Saturday and further into Sunday morning.
The trades are due to remain fresh to sometimes strong over the coming week and weekend, more variable at times each morning.
Later Sunday and more so Monday morning, another moderate sized S/SW groundswell is due across the region, produced by a broad but patchy polar frontal system developing in the Heard Island region today. Only an inconsistent 5-6ft of S/SW groundswell is due Monday morning, while a secondary weaker but northerly tracking front is expected to produce a smaller reinforcing S/SW swell later Tuesday/Wednesday to 4-5ft or so.
Longer term it looks like we'll finally see some larger S/SW groundswell for later next week, as a strengthening polar front is projected north-northeast towards us over the weekend and early next week. This should produce a S/SW groundswell in the 8ft range for Friday/Saturday, but we'll have a closer look at this on Thursday.
16 day Bali Forecast Graph
16 day East Java Forecast Graph
16 day Sumbawa Forecast Graph